September-October 2011
Highlights and Links
Follow the links for more information about Upper Mississippi stories and news in this issue of Big River.
Features:
The river has inspired countless songs and nurtured dozens of musical styles and traditions, and sent them out into the wider world. It's still happening. By Dean Klinkenberg
Dean's blog about Mississippi river music and musician interviews
Emil Liers, the Pied Piper of Otterdom

Emil Liers' way with otters made him famous throughout the nation.

Hundreds of thousands of tourists stopped at Liers' "Otter Sanctuary" on Highway 61 near Homer, Minn. (Photo courtesy of Winona Republican Herald, Winona County Historical Society)

By James Lackore
Seven Steps to Smoke Your Fish

Catfish, carp, sturgeon, perch, walleye and bullheads — river fish can be delicious when smoked. In fact, smoked fish can be one of the most delectable native foods in the Upper Mississippi River Valley — on a par with morel mushrooms and wild rice. By Pamela Eyden


Smoked carp, courtesy of Schafer"s Fish.
Restaurant Review —
Mrs. Sippi's River Town Bistro —
A Garden, Trains and Good Food
Chef Max Wilda serves stylish food to the breakfast and lunch crowd in Trempealeau, Wis.
Sample a special menu item — a smoked carp omelet. Mrs. Sippy's is one of the pioneering restaurants to serve this unjustly scorned fish. The omelet was light and airy, with a distinctive smoked fish flavor that was almost soothing, perfectly balanced and not at all heavy for a morning dish. By Pamela Eyden
Julia Crozier, River Artist
What is the color of the river, really?
Link: Julia on the web

Artist Julia Crozier has painted the river and river life since childhood.

"I like to paint landscape vistas and places I'm connected to. But after doing a lot of river paintings, I have to say it's really hard to paint the river. It's hard to get a good composition. From a certain distance there's a sameness about it. It's hard for other reasons, too, and I talk to other artists about this, like, 'What is the color of the river, really? How do you get that?' We don't know."
Floating Works of Art - Northern Spark
A riverboat pilot reports on the all-night Northern Spark Art Festival.
By Capt. Bob Deck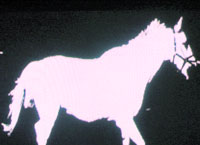 A technical glitch prevented "Nightmare," a video loop of a white horse, from making her run on the river from St. Paul to Minneapolis. (Photo by Samantha Gaspardo) More on Nightmare