It's easy to spend a day exploring these stretches of the Upper Mississippi. In each of our "River Loops" columns we'll prowl a stretch of the river for interesting places and things to do.
Red Wing to Hastings, Minn.
There is plenty to do outdoors in Red Wing, Minn. Just upstream of Red Wing, the Main Channel swings across the valley to follow the steep bluffs of the Wisconsin bank to Prescott, Wis. As a result, about 16 miles of backwaters and bottomland forest fill the Minnesota side of the valley between the Vermillion and Mississippi rivers in this stretch.
The Vermillion River runs parallel to the Mississippi for most of the stretch, with a mile or two of shallow backwater lakes and channels — Gores Pool Wildlife Management Area — separating the two. The Vermillion and these backwaters are popular with paddlers and birdwatchers.
At Hastings the Vermillion River tumbles over a scenic rocky waterfall in a narrow gorge in Vermillion Falls Park, on the south side of town by the grain elevators.
Much of Hastings, Minn., was built in the 19th century, and it presents another fine example of a downtown from that era that's still an active retail center.
For the whole Loop story and more Mississippi River stories, order this issue now.
Loop Links
May-June 2010 Feature Stories
Modern River Explorer
There is a good chance you've been boating with Mildred.
By Trudy Balcom
Paddlers on the Upper Mississippi River are blessed with countless beautiful channels and backwater lakes to explore and enjoy.
Old Man River Restaurant and Brewery
This McGregor, Iowa, restaurant brews up German lager-style beers.
By Pamela Eyden
In the late 1800s, there was talk of a shortcut from Lake Superior to the Gulf of Mexico through the St. Croix and Mississippi rivers.
By Dan McGuiness
Photographers captured stunning images from the river for the annual contest.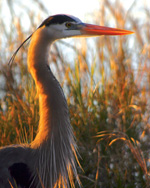 Great blue heron, Shirley A. Gates, Mindoro, Wis., Honorable Mention, Wildlife or Plants.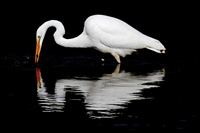 Egret, Alan Stankevitz, La Crescent, Minn., Third Place, Birds.
To read these and other stories, order this issue or check out one of these retail outlets.