River Loop
Day Tripping on the Upper Miss
Exploring the Upper Mississippi is easy for people who like to travel in a circle and get back where they started by bedtime. Major crossings are about 30 miles apart, so you can go down one side, cross the river and come back on the other.
It's also easy to spend a day exploring any of these stretches. In each of our "River Loops" columns we'll prowl a stretch of the river for interesting places and things to do. This loop describes what to see and do along the road from La Crosse, Wis., to Lansing, Iowa, and back.
Wabasha to Red Wing
Around Lake Pepin on the Minnesota and Wisconsin sides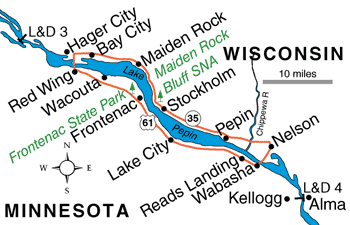 Loop Links
For the whole Loop story and more Mississippi River stories, order this issue now.
Feature Stories