River Loops
Day Tripping on the Upper Miss
Exploring the Upper Mississippi is easy for people who like to travel in a circle and get back where they started by bedtime. Major crossings are about 30 miles apart, so you can go down one side, cross the river and come back on the other.
It's also easy to spend a day exploring any of these stretches. In each of our "River Loops" columns we'll prowl a stretch of the river for interesting places and things to do. This loop describes what to see and do along the road from La Crosse, Wis., to Lansing, Iowa, and back.



La Crosse, Wis., to Lansing, Iowa
Loop Links
Feature Stories

43 Overlooks on the Upper Mississippi See map below
We've listed several great new overlooks, some just recently made available to the public, thanks mainly to land trusts and generous landowners.
Links:
Mississippi Valley Conservancy properties
Cassville Bluffs SNA (pdf)
Devil's Backbone (pdf)
La Crosse Blufflands, North (pdf)
La Crosse Blufflands, South (pdf)
Jo Daviess Conservation Foundation
Casper Bluff Land & Water Reserve
Keough Effigy Mound Land & Water Reserve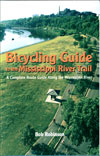 Book Reviews
Guides we Review:
Kids gone Paddlin' by Tom Watson
Bicycling Guide to the Mississippi River Trail by Bob Robinson
Wildflowers of Wisconsin and the Great Lakes Region By Merel R. Black and Emmet J. Judziewicz