River Loop
Day Tripping on the Upper Miss
It's easy to spend a day exploring these stretches of the Upper Mississippi. In each of our "River Loops" columns we'll prowl a stretch of the river for interesting places and things to do.
La Crosse, Wis., to Winona, Minn.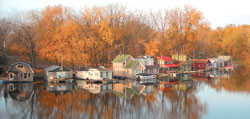 Boathouses on Latsch Island, Winona, Minn. (Mary Farrell, Visit Winona)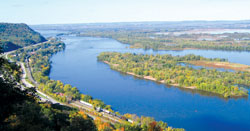 Looking down on Highway 61. (Joan Gavin)
The most dangerous thing about driving Highway 61 between Winona and La Crescent, Minn., is the scenery. The sinuous road curves around the bases of a parade of bluffs and the views of the channels and backwaters change constantly.
Thanks to the Mississippi Valley Conservancy, the city of La Crosse and generous landowners, much of the bluff line overlooking La Crosse is in the process of becoming city parkland.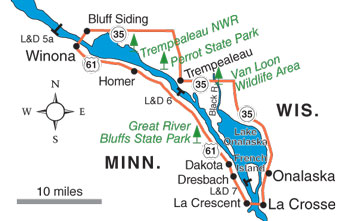 For the whole Loop story and more Mississippi River stories, order this issue now.
March-April 2010 Feature Stories