River Loop
Day Tripping on the Upper Miss
Exploring the Upper Mississippi is easy for people who like to travel in a circle and get back where they started by bedtime. Major crossings are about 30 miles apart, so you can go down one side, cross the river and come back on the other.
It's also easy to spend a day exploring any of these stretches. In each of our "River Loops" columns we'll prowl a stretch of the river for interesting places and things to do. This loop describes what to see and do from St. Paul to Minneapolis.
LeClaire to Clinton, Iowa
A Mostly Civilized Stretch of the Mississippi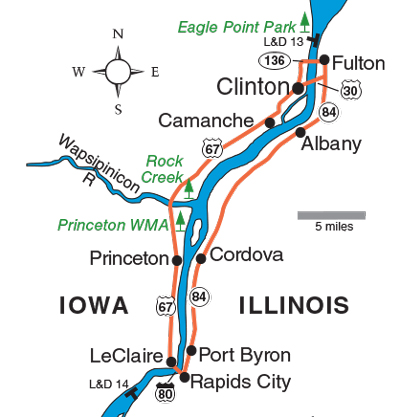 Loop Links
For the whole Loop story and more Mississippi River stories, order this issue now.
November-December 2009 Feature Stories
River Book Reviews
Cahokia: Ancient America's Great City on the Mississippi
The Indians of Iowa
The Old-Time River Rats, by Kenny Salwey
Costly Grace: A Mystery, by James Allaire
A Guide to Projectile Points of Iowa
The Mississippi: A Visual Biography, by Quinta Scott
The Floating Boathouses on the Upper Mississippi River, by Martha Greene Phillips
Driftless, by David Rhodes
Crows & Cards, by Joseph Helgerson
River of Words: Young Poets and Artist on the Nature of Things
Sweet Land for the Blandings
The Weaver Dunes population of Blandings turtles is the second largest in the country.
The Last Ride
Family memories on the final boat ride of the season, by Jeff Lessard
Carp Fest!
Big River walks the talk and cooks up a carp feast.