---
November-December 2006 River News excerpts and Links to more information
Danger of Drink
La Crosse, Wis. — Since 1997, eight college-age men have drowned in La Crosse. Six of the men were missing until their bodies were found in the river. The most recent victim, Lucas Homan, 21, was pulled from the Mississippi Oct. 2 near Riverside Park, downtown. Tests indicated that he had a blood-alcohol concentration of 0.32 percent. He was seen at several downtown bars two days earlier, according to the La Crosse Tribune (10-5-2006).
Each drowning fueled rumors of a serial killer, but no signs of foul play were discovered in any of the cases of missing victims. Alcohol was a factor in all of them.
The city and universities are discussing a range of possible responses, from better alcohol education to patrols to barriers between downtown and the river.
Dam Public Input
Madison, Wis. — The Wisconsin Department of Natural Resources (DNR) must inform the public of changes in the way water flows are managed on a stretch of the St. Croix River, a tributary to the Mississippi, as a result of a court-approved agreement between the DNR and the nonprofit River Alliance of Wisconsin late this summer.
The Alliance had challenged the DNR's "Memorandum of Understanding" with Xcel Energy, which owns and runs the St. Croix Falls hydropower dam. The memorandum, they charged, was private, could not be enforced and provided no means for public involvement. The world's only reproducing population of the federally-endangered winged mapleleaf mussel makes its home below the dam.
The settlement also requires water level monitoring, which will be available through the U.S. Geological Survey or the River Alliance.
Barge Power
Hastings, Minn. — A barge-based generator that produces electricity from river current may begin operating late next year in this rivertown.
The Hastings City Council agreed in October to let Hydro Green Energy LLC of Houston link the company's first commercial "hydropower turbine array" to the power grid near the city's hydro plant.
The floating technology "can create electricity from moving water but without a dam," said Wayne Krouse, Hydro Green Energy's chairman, CEO, founder and inventor.
The hydropower turbine array will produce 200 kilowatts of electricity. (In comparison, a typical coal-burner produces 500 megawatts — 2,500 times as much.) However, it has no fuel cost, burns no coal and has no emissions. It rests on a 15-foot by 24-foot barge that draws 15 feet of water.
The Hastings barge generator will run continuously, even in winter, said Krouse. Other such barges can be put in place to meet peak-demand periods and can be brought online in a minute or two, whereas thermal plants require three to six hours to power up for peak periods.
Hydro Green will pay about $240,000 to place the generator. Hastings will incur no cost to have the power barge near its hydro plant, and it will share revenues from sale of the electricity with Hydro Green.
What's in it for the city? "It's more the public relations aspect of it, trying to find a new energy source," said John Zgoda, Hastings' public works superintendent.
The barge technology also works in tidal areas and ocean currents, but Hydro Green seeks river locations because the permitting process is clearer for rivers. Moreover, rivers tend to be close to existing power lines and transformers.
Krouse, a former Exxon chemical engineer, seeks river locations that are "deep and swift. The higher the velocity of the water and the deeper it is, the more power we can produce." Hydro Green Energy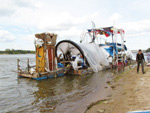 Armada Suspended
Quad Cities — Originally bound for New Orleans, the Miss Rockaway Armada will winter in the Quad Cities.
This group of 16 to 33 young people lived, travelled, and performed on the Mississippi during the summer. Their boat — three tied-together, home-made, eclectic wooden rafts, constructed of and decorated with all manners of salvaged items — looks like nothing you've ever seen before on the river. The origin of the project's name, "The Miss Rockaway Armada," is a bit elusive. "It is a long story," said a troop member.
Despite the face paint, head adornments, unusual costumes, no last names and a constantly shifting crew, they emphasize they are not hippies, as a local newspaper reported, but artists and performers who sustain themselves with their creative endeavors. For the summer, they elect to live freely and healthily and try to connect with the river and the people they meet. At night, wherever they end up, they perform on the "stage" that is the roof of one of the rafts.
By late September, it was getting cold, their craft had suffered damage in Pool 13, the two Volkswagen Rabbit engines converted to run on bio-diesel were balky and suffering from cold fuel, and members were ready to return to their personal artistic endeavors. They were looking for a place to winter their vessel. Miss Rockaway Armada
Note: Their website reports that the raft will winter at a marina in Andalusia, Ill. The crew members have scattered to their own personal wintering grounds.