Covering the Heart of the Driftless Area for 23 Years
John Banvard's Big Idea
The Mississippi River starred in the first major motion picture, in 1846.
By Joe Byrd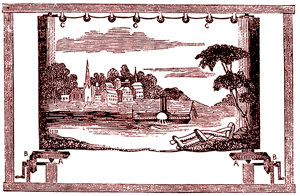 Imagine a roll of canvas, the visible portion the size of a movie screen, twelve feet high. A massive scroll, turned by a crank, pulls an ever-changing panorama across your field of vision. The basic concept is similar to a movie projector or videocassettes — a moving image is unwound from one reel onto the other as it is viewed. This is the first movie — if we're being generous.
May and June Heritage Festivals
By Pam Eyden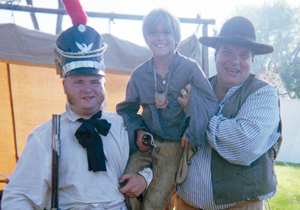 Participants re-enact a long-ago time period at the Prairie Villa Rendezvous.

Links
Prairie Villa Rendezvous, Prairie du Chien, Wis. - June 16 through 19
Germanfest, St. Paul - June 17 through 19
Midsummer Fest, Norskedalen, Coon Valley, Wis. - June 18 and 19

Read the whole story in the May-June Big River.

Call 507-454-5949 for info on digital subscriptions.

Coldwater Cave

A Hidden Jewel of the Driftless Area
By Capt. Ted Peck
One of the greatest treasures in thee Driftless Area — the heart of the American heartland — is hiding right under our feet.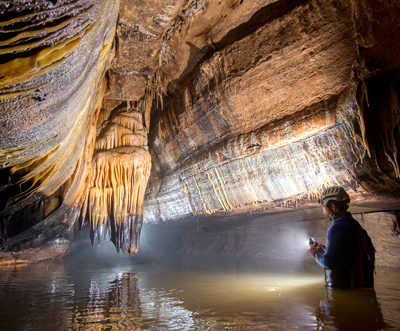 (Jordan Kjome)
Explore a Driftless Area Cave
Although Coldwater Cave is not open to the public, there are several caves in the Driftless Area that are. Most of these caves provide guided tours. Some are private and some are operated by the state. You can check hours, prices and other details online.

Iowa
Maquoketa Caves State Park, Maquoketa
Spook Cave, McGregor
Crystal Lake Cave, Dubuque

Minnesota
Mystery Cave, Forestville
Niagara Cave, Harmony

Wisconsin
Cave of the Mounds, Blue Mounds
Crystal Cave, Spring Valley
Eagle Cave, Blue River

Illinois has closed its state-owned caves to prevent the spread of white nose syndrome, a fatal disease of bats.
See more photos and read the whole story
in the May-June Big River.
Buy now
Call 507-454-5949 for info on digital subscriptions.
---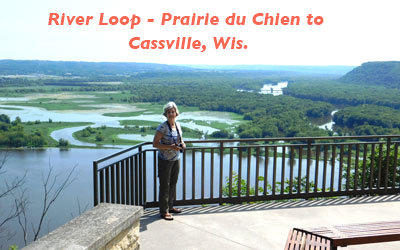 Overlook at Pike's Peak State Park in Iowa.
Links
See Highlights for this issue's Table of Contents.
Buy the magazine at these locations
Order single issues from Big River

See more on the Highlights page
Deck on Deck: Towboating in the Twin Cities by Capt. Bob Deck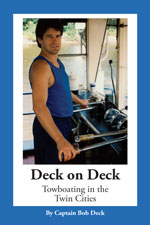 What's it like to work on a towboat? Deck on Deck is a first-hand account of life on river towboats in the 1970s and 80s. These stories will entertain you as Bob Deck recalls his days as a deckhand on the Mississippi River.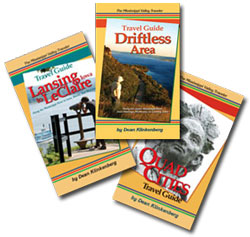 Quad Cities Travel Guide

Lansing, Iowa, to Le Claire Travel Guide

Driftless Area Travel Guide
Weather forecast for Upper Mississippi cities
River levels on the Upper Mississippi
Towboat-watching resource: Boats in pools and queued in locks.
Dreaming of a trip down the river? Read about boaters taking a voyage of a lifetime down the Mississippi on River Trips.