Covering the Heart of the Driftless Area for 25 Years

Order your new Big River Magazine subscription here. Your sub will start with the July-August 2018 issue. Big River is published six times a year.
Current Issue — May-June 2018
Among the Stories:

Looking for the Ox Cart Trail

River Loop — Dubuque to Cassville

Pleasures of Island Camping

Rivertown Music Festivals

Cecropias!

Solar Water Taxi
---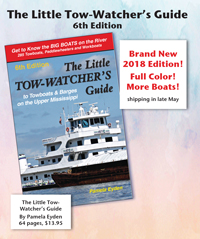 Order the new Little Tow-Watchers Guide here!
$13.95
Or call us at 507-454-5949 or 1-800-303-8201
---
Read our first issues
Read these popular stories from past issues!
The Sex Life of Floodplain Trees
It's early spring, and trees in the flood plain start the process of reproducing.
Editorials
Editorial: Replacing an Aging Paradigm
Dams have unbalanced an environment that evolved for millions of years.
By Reggie McLeod, Editor and Publisher of Big River

Editorial: Dead, Dying and Poison Zones
Decades of voluntary agricultural programs and incentives have had little effect.
By Reggie McLeod, Editor and Publisher of Big River
Outdoor Fun
Packing for the Big Paddle Jan-Feb 2018 (pdf) By Ryan Johnson
Climbing the River Bluffs March-April 2017 (pdf)
The Mississippi River valley could be the best sport-climbing spot in the Midwest. By Pamela Eyden
Paddling Odysseys of 2016 March-April 2017 (pdf)
Paddling Odysseys of 2015 Jan-Feb 2016 (pdf)
Roll Me to the River Jan-Feb 2016
Rig up a trailer on a fold-up bicycle and pedal your canoe to the river. By John Gabbert
The Big Campus: Augsburg's River Semester Nov-Dec 2015. (pdf) The river was a classroom for three months. By Ryan Johnson
Making New Wine in an Old River Valley
Special Places
A Walk on Paint Rock March-April 2018 By Brian Gibbs
Nature Reawakens at Nahant Marsh July-August 2017 By Emery Styron
Restoring Driftless Area Prairies May-June 2017 By Pamela Eyden (also in PDF)
Spring Lake - A Legacy Lost and Found
The author explores his heritage on the Mississippi. Nov-Dec 2016 By Denny Caneff
Effigy Mounds of the Wisconsin River Valley September-October 2016
By Sara Millhouse. Also in PDF
Coldwater Cave May-June 2016
By Capt. Ted Peck
Boats
A Family Tree with Roots in the River — the Suiter family January-February 2018 By Sara Millhouse (pdf)
Boathouses on the Black River Nov-Dec 2017 By John Elliott (pdf)
Preparing for a Long River Cruise Jan-Feb 2008 By Capt. Larry Martin (pdf)
Bringing an Old Boat Back to Life January-February 2015 By Carl Henry
Critters
Bears Among Us November-December 2017 By Pamela Eyden (pdf)
The Plight of the Bumble Bees May-June 2017 By Joan Schnabel
Gray Shadow
Nov-Dec 2016
By Kenny Salwey
Photos by Herb Lange

Nighthawk Twilight July-Aug 2015 By Molly McGuire
An Otter Kind of Critter By Roger Lacher
Snapper! June 1994 By Roger Lacher
Carp -- Queen of the River or Pig with Fins? November 1993 By Pamela Eyden