Read Stories about the Upper Mississippi River from past issues of Big River Magazine.
See complete issues from 2006 and 2007 online (PDFs). Select issues here
River Loop Guide (day trips on the Mississippi)
Volunteer groups on the river - a nine-part series about non-profit groups making a difference on the Upper Mississippi
Links to Upper Mississippi Resources
Take a look back at our April Foolishness river stories.
If you didn't hear Reggie on the Larry Meiller show on WPR on Wednesday, March 27, you can listen to a recording.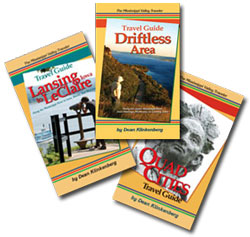 Driftless Area, Lansing to LeClaire, Iowa, and Quad Cities Travel Guides by Dean Klinkenberg. More info and ordering info.

SALE! 1/3 off
The Little Tow-Watcher's Guide Chart the towboats you see on the river Ð for sale in the Big River Bookstore.