Big River Magazine
Explore the Upper Mississippi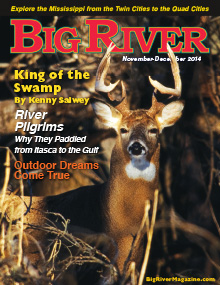 November-December 2014
Visit us on Facebook



Search our site

Read stories from past issues of Big River

Weather forecast for Upper Mississippi cities

River levels on the Upper Mississippi

Towboat-watching resource: Boats in pools and queued in locks.

Dreaming of a trip down the river? Read about boaters taking a voyage of a lifetime down the Mississippi on River Trips.


Big River Carp T-shirt
Order Here!


A regional environmental and
lifestyle magazine
Kenny Salwey's
King of the Swamp
The morning had dawned gray and misty. The pungent smell of autumn — fresh acorns, fallen leaves, and damp earth — permeated the air. I'd been cruising the Big Lake Country, blazing trails, counting 'rat houses and clearing portages for the hunting and trapping time soon to come.
I was halfway across a beaver dam when I saw them. I stopped walking then knelt down to get a closer look. They were deer tracks — the largest whitetail tracks I'd ever seen. Deer had been crossing this beaver dam since the first day it was built, maybe ten years ago. This is nothing unusual in the great swamp country along the Mississippi backwaters. Everything on four legs, plus humans, uses beaver dams as bridges in swamp country. In my many years of traveling the swamp I'd seen a whole lot of tracks, but this set of tracks was special. They were long and splayed out wide, after the manner of big bucks, the dew claws sunk deep into the rich, black mud. I made up my mind then and there that I would lay a trap come November for this great monarch of the swamp.
Read the whole story in the Nov-Dec Big River. Buy now
---
Outdoor Dreams Come True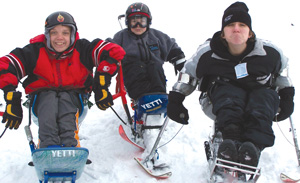 Volunteers from the North American Squirrel Association help disabled people get outdoors.
By Ryan Johnson

---
River Pilgrims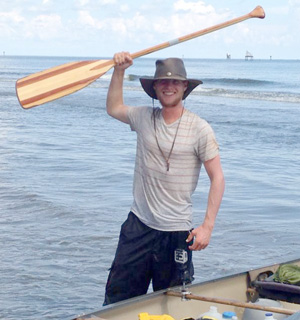 Paddling the length of the Mississippi River is an
inner journey, too.
By Anna Segner
Read these stories
in the
November-December issue of
Big River.
Buy the magazine at these locations
Order single issues from Big River
See more on the Highlights page
North American Squirrel Association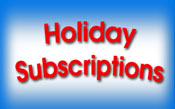 Big River Travel Map
Dozens of scenic Mississippi overlooks and places to go.
Read Stories
about the Upper Mississippi River from past issues of Big River Magazine.
See complete issues from 2006 and 2007 online (PDFs). Select issues here
Volunteer groups on the river - a nine-part series about non-profit groups making a difference on the Upper Mississippi
Check the weather forecast and river levels for Upper Mississippi River cities.
Links to Upper Mississippi Resources
Take a look back at our April Foolishness river stories.
Deck on Deck: Towboating in the Twin Cities by Capt. Bob Deck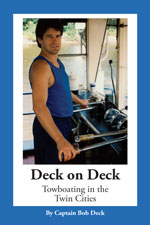 What's it like to work on a towboat? Deck on Deck is a first-hand account of life on river towboats in the 1970s and 80s. These stories will entertain you as Bob Deck recalls his days as a deckhand on the Mississippi River.

Troubled Waters Ñ 30 Years in the River Business by Jack Lambert For sale in the Big River Bookstore. Listen to Jack's July 1st talk with Tommy Mischke on The Nite Show - Mischke Til Midnite,WCCO NewsRadio online.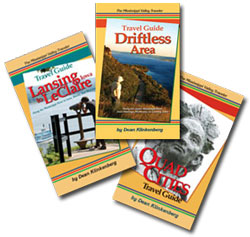 Driftless Area, Lansing to LeClaire, Iowa, and Quad Cities Travel Guides by Dean Klinkenberg. More info and ordering info.