Big River Magazine
Explore the Upper Mississippi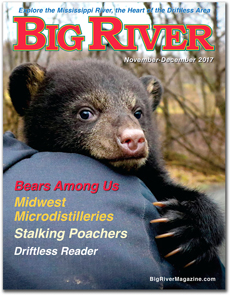 November-December 2017



Weather forecast for Upper Mississippi cities
River levels on the Upper Mississippi
Facebook Page Mississippi River Paddlers - people paddling from Source to Sea
Towboat-watching resource: Boats in pools and queued in locks.

Covering the Heart of the Driftless Area for 25 Years
Order your new Big River Magazine subscription here. Your sub will start with the January-February 2018 issue. Big River is published six times a year.
Holiday Gift Subscription Special
See Highlights for the Table of Contents
See links to more information about feature stories.

(Photo by Mary Coughlan)

Bears Among US
"Bears have lived in the Driftless Area for longer than humans, much longer than Euro-Americans.
"I think there are a lot more bears than we think. Maybe they're watching us more than we know. — Mary Coughlan, Ettrick, Wis.
By Pamela Eyden
---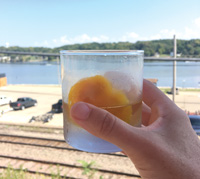 Distilling in the Midwest
Across the Upper Midwest and elsewhere, the convergence of the locavore movement and a resurgence of hip cocktail culture is fueling a boom in small distilleries.
By Sara Millhouse
---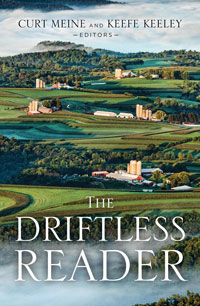 The Driftless Reader
For readers unfamiliar with the Driftless Area, this book may be the beginning of a rewarding relationship ... Meine and Keeley's careful work is obvious from their choices.
Review by Sara Millhouse
---
PLUS — migrating big birds, boathouses on the Black River, game wardens.