Covering the Heart of the Driftless Area for 23 Years
September-October 2016
See Highlights for the Table of Contents
Links to more information about our stories
Big River CD Review
Swamp Stories
Kenny Salwey tells real-life stories from his life as the Last River Rat. Journey with him as he tells tales of the Mississippi River.
Indian Mounds on the Wisconsin River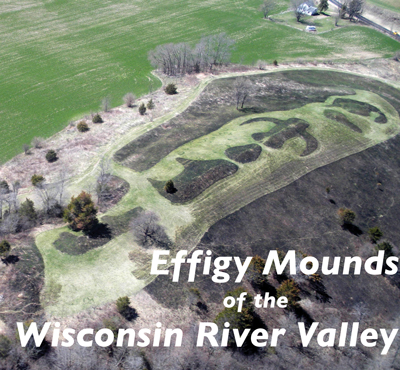 Inland Shrimp Farming
The newest food product in the Driftless Area is one you might least expect to find growing here: Pacific white shrimp from Decorah, Iowa.

Loop: Enjoying the Outdoors in the Urban Heart Downtown Minneapolis to Downtown St. Paul

The 14-mile stretch of river between downtown Minneapolis and downtown St. Paul is not only dense with people, businesses and automobiles, it's dense with things to do and one-of-a-kind distinctions. In the middle of a 72-mile long national park, the Mississippi National River and Recreation Area (MNRRA), this stretch contains the only gorge on the Mississippi.


Downtown St. Paul from Harriet Island Park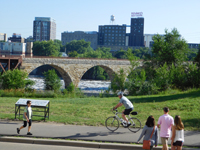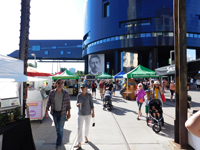 L: Stone Arch Bridge. R: Farmers Market next to the Guthrie Theater


Waterfalls of Northeastern Iowa
These five waterfalls of the Driftless Zone are close enough together to easily visit in a day.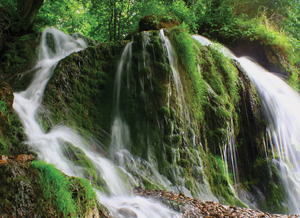 Malanaphy Falls, west of Decorah

Call 507-454-5949 for info on digital subscriptions.
Big River Travel Map — Dozens of scenic Mississippi overlooks and places to go.
Read Stories about the Upper Mississippi River from past issues of Big River Magazine.
See complete issues from 2006 and 2007 online (PDFs). Select issues here
Volunteer groups on the river - a nine-part series about non-profit groups making a difference on the Upper Mississippi
Check the weather forecast and river levels for Upper Mississippi River cities.
Links to Upper Mississippi Resources
Take a look back at our April Foolishness river stories.
Buy the magazine at these locations
Order single issues from Big River

See more on the Highlights page
Deck on Deck: Towboating in the Twin Cities by Capt. Bob Deck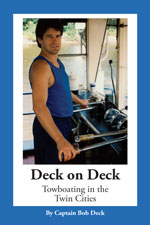 What's it like to work on a towboat? Deck on Deck is a first-hand account of life on river towboats in the 1970s and 80s. These stories will entertain you as Bob Deck recalls his days as a deckhand on the Mississippi River.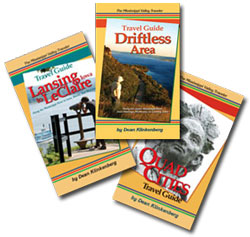 Quad Cities Travel Guide

Lansing, Iowa, to Le Claire Travel Guide

Driftless Area Travel Guide
Weather forecast for Upper Mississippi cities
River levels on the Upper Mississippi
Towboat-watching resource: Boats in pools and queued in locks.
Facebook Page Mississippi River Paddlers - people paddling from Source to Sea