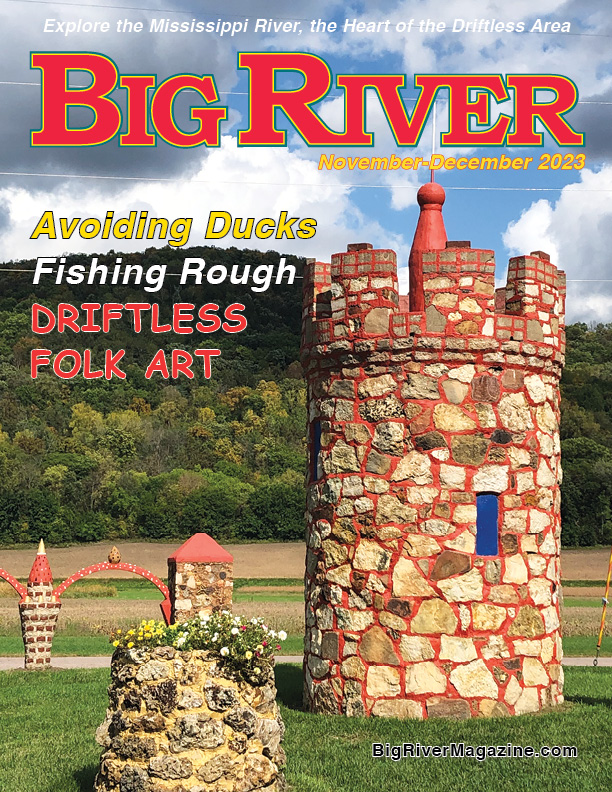 Current Issue • Subscribe • Links
Statement of Editorial Independence
Advertiser Info • Contact Us • Books
---
Read these popular stories from past issues!
All copyright Big River Magazine
Editorials
Editorial: Resilience & Improvisation
We're going to be hearing the word "resilience" a lot more in the future.
By Reggie McLeod, Editor and Publisher Sept-Oct 2021
Guest Editorial: Tim Mason: Defending the Bluffs, Romancing the River
By Trudy Balcom, editor of the White Mountain Independent (Show Low, Ariz.) and a former staff member of Big River. Nov-Dec 2018
Editorial: Replacing an Aging Paradigm
Dams have unbalanced an environment that evolved for millions of years.
By Reggie McLeod, Editor and Publisher of Big River April 2016

Editorial: Dead, Dying and Poison Zones
Decades of voluntary agricultural programs and incentives have had little effect.
By Reggie McLeod, Editor and Publisher of Big River September 2016
Get Outdoors!
Cold-Water Walleyes Nov-Dec 2018 (pdf) By Capt. Ted Peck
Chasing Winter Trout Jan-Feb 2018 (pdf) By Todd Franklin See more information.
Packing for the Big Paddle Jan-Feb 2018 (pdf) By Ryan Johnson
Climbing the River Bluffs March-April 2017 (pdf)
The Mississippi River valley could be the best sport-climbing spot in the Midwest. By Pamela Eyden
Paddling Odysseys of 2016 March-April 2017 (pdf)
Paddling Odysseys of 2015 Jan-Feb 2016 (pdf)
Roll Me to the River Jan-Feb 2016
Rig up a trailer on a fold-up bicycle and pedal your canoe to the river. By John Gabbert
The Big Campus: Augsburg's River Semester Nov-Dec 2015. (pdf) The river was a classroom for three months. By Ryan Johnson
Making New Wine in an Old River Valley
Black Settlers in the Driftless Black people have a history in the Upper Midwest as long as that of Euro-American settlers, and they built communities in rural areas that we now think of as historically White. March-April 2020 By Sara Millhouse
Fish Farm Mounds Sept-Oct 2020 By Christine Hall
Rivertown Chocolate Shops May-June 2020 By Pamela Eyden
Red Wing Marine Museum January-February 2020 By Capt. Bob Deck
Havencrest – Indulge in Rococo and Romance at Savanna's Castle May-June 2019 By Sara Millhouse
Building a Bridge Between Muscatine and China January-February 2019 By Emery Styron
Richie Swanson, Aghaming Park, and Red-shouldered Hawks:
Turning No-Man's Land into a Nature Preserve May-June 2018 By Pamela Eyden
A Walk on Paint Rock March-April 2018 By Brian Gibbs
Nature Reawakens at Nahant Marsh July-August 2017 By Emery Styron
Restoring Driftless Area Prairies May-June 2017 By Pamela Eyden (also in PDF)
Spring Lake - A Legacy Lost and Found
The author explores his heritage on the Mississippi. Nov-Dec 2016 By Denny Caneff
Effigy Mounds of the Wisconsin River Valley September-October 2016
By Sara Millhouse. Also in PDF
Coldwater Cave May-June 2016
By Capt. Ted Peck
Boats
University of Minnesota Centennial Showboat Heads Downstream
Story 1 Story 2
Piloting the American Queen — Like Maneuvering an Elephant in a Bathtub January-February 2019 By Lee Hendrix
A Family Tree with Roots in the River — the Suiter family January-February 2018 By Sara Millhouse (pdf)
Boathouses on the Black River Nov-Dec 2017 By John Elliott (pdf)
Preparing for a Long River Cruise Jan-Feb 2008 By Capt. Larry Martin (pdf)
Bringing an Old Boat Back to Life January-February 2015 By Carl Henry
Critters
An Uncertain Future for Driftless Trout July-August 2020 By John Lyons
Cormorant Wars December 2000, as reprinted in Birds of the Upper Mississippi and Driftless Area By Pamela Eyden (pdf)
Skipjack Herring, Ghost Fish of the Upper Mississippi March-April 2019
By John Lyons
Wild Turkeys in the Driftless Area September-October 2018
By Julie M. Johnson (pdf)
Bears Among Us November-December 2017 By Pamela Eyden (pdf)
The Plight of the Bumble Bees May-June 2017 By Joan Schnabel
Gray Shadow
Nov-Dec 2016
By Kenny Salwey
Photos by Herb Lange

Nighthawk Twilight July-Aug 2015 By Molly McGuire
An Otter Kind of Critter By Roger Lacher
Snapper! June 1994 By Roger Lacher
Carp -- Queen of the River or Pig with Fins? November 1993 By Pamela Eyden
Nature and the Environment
Water Quality Shapes The Health of the River By Shawn Giblin, July-August 2018
.
The Sex Life of Floodplain Trees March-April 2015 It's early spring, and trees in the flood plain start the process of reproducing. By Pamela Eyden, with special thanks to Carol Jefferson.
All copyright Big River Magazine