From the Bottom Up
One Man's Crusade to Clean America's Rivers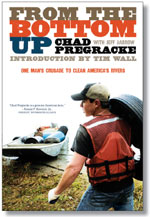 Chad Pregracke with Jeff Barrow, National Geographic, Washington, D.C., 2007, $26.00
Chad Pregracke's account of the beginning and development of his Living Lands and Waters organization, could serve as a case study for how to get things done. He grew up on and in the Mississippi and knew the Quad Cities stretch of the river intimately by the time he was a teenager. He worked as a clammer, diving for mussels, and was acutely aware that clammers were regarded as lowly river rats.
Then, with a bunch of river know-how behind him, he asked big questions: Why was nobody picking up junk from the river, and why were eyesores allowed to remain? Rather than casting blame or making excuses or giving in to obstacles, he became an instrument of change. In a short time, cleaning the river became his goal. There was never a question that this is what he would do.
His character comes through in his stories: always problem-solving, persistent, charming, self-effacing (sometimes feeling like "a moron," other times hoping something wouldn't turn out "too cheesy") and amazed at the attention. Always tireless and willing, he puts up with loads of discomfort and challenges.
If you like technical stuff about boats and such, this is full of details about how Chad and his crew jerry-rigged the equipment that they found or bought cheap, or constructed out of old materials, or got donated. Chad's stories are entertaining and sometimes astonishing. I chuckled as I visualized some of his efforts, like the time he scrounged up a John Deere tractor cab to use as an elevated pilothouse to see the barge of trash.
Chad went from picking up trash alone, to leading a crew. He learned how to raise money and find sponsors. He became adept at it. Now in his early 30s, he has become quite a national personality. Not bad for a clammer. Top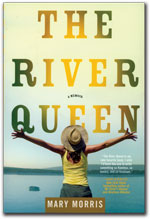 The River Queen, A Memoir
Mary Morris, Henry Holt and Company, New York, 2007, $24.00
When the author's father died suddenly in Hannibal, Missouri — the town he grew up in — he left a note describing an island in the river that he once visited as a boy. Morris' urge to explore the river and find this island launches her journey.
She travels in September on a houseboat out of La Crosse, Wis., with a father and son named Tom and Jerry. She envisions window boxes, Weber grills and deck chairs, not rusted railings, a broken head and dysfunctional stove. So it begins. By the end of the journey she's learned a lot about the river and the tiny towns that dot its banks. For one thing, it seems almost impossible to find a good cup of coffee along this stretch of the river. She's also reflected enough on her father and herself to be ready to begin the next leg of her own life's journey.
Mary Morris teaches creative writing at Sarah Lawrence College and has written six novels, three collections of short stories and three other travel memoirs, including Nothing to Declare: Memoirs of a Woman Travelling Alone. She is a very good writer, with an eye for descriptions that set the scene, and an alert interest in people and the dynamics between them. Top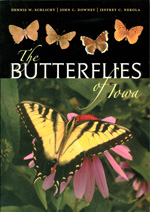 Dennis Schlicht, John C. Downey, Jeffrey C. Nekola, University of Iowa Press, Iowa City, 2007, $29.95
This beautiful, comprehensive guide to butterflies includes not just color photographs and species accounts, but a very interesting section that outlines major ecosystems and natural communities in the state, and lists places where these remain intact. Where are the fens of northeast Iowa? Where can one find the butterflies that hang out in glade prairies? The book gives the novice a basic understanding of butterfly habitat and points him or her out the door.
There are also range maps, a check list, a glossary of terms and a section on how to attract butterflies, encourage puddling, give them shelter and study them. All this fits nicely in a compact book with an elegant cover. Top
Gordon Morrison, Houghton Mifflin Company, Boston, 2004, $16.00.
Some science books for children are informative, attractive, easy to read and written for a range of interest levels. Children like them and adults like them. This is such a book.
It invites young readers to pay attention to the nature around them. The book describes a year in a typical Midwestern neighborhood with a variety of habitats — rooftop, empty lot, school lawn, railroad corridor, etc. We meet kestrels, robins, monarch butterflies, nighthawks, frogs, rabbits, coyotes and other common wildlife. Large type at the top of the page above the illustrations leads us through the "story line," while small bits at the bottom of the page add detail for curious readers. Top
Afloat Again Adrift —
Three Voyages on the Waters of North America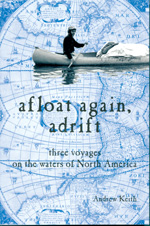 Andrew Keith, Aliform Publishing, Minneapolis, 2006, $15.95
My feet are gritty with sand and dirt from the shoreline. The adrenaline is still pumping through my veins, because I've been looking over my shoulder for polar bears… All this without leaving the comforts of my home.
I've been reading Afloat Again Adrift, which tells the story of the author's three canoe trips on North America's greatest watersheds. The first began when he noticed on a map "something very peculiar about northern Minnesota: not one but three major watersheds begin there… From just about the same location we could paddle three different directions and arrive at three different seas: south to the subtropical Gulf of Mexico, north to the subarctic Hudson Bay or east to the Gulf of St. Lawrence. New Orleans, York Factory and the city of Quebec were all downstream from my back yard."
His three voyages took him north along the Nelson River to Hudson Bay; down the Mississippi River to the Gulf; and from the Great Lakes through the chain of lakes to the Gulf of St. Lawrence.
Keith made the trips just a year or two apart, so all are within recent memory. The tales he tells are vivid. The trips are real. The dangers are not minimized. Lessons are learned.
This book makes for great travel reading if you have the urge to get out on the waters vicariously. You can share a fresh roasted raccoon dinner and a cup of chicory joe. Top
The Becoming of the Driftless Rivers National Park (Wisconsin)
Bryan J. Stanley, 277 pages, $75.00
In this self-published book, the author argues for turning Crawford County, Wisconsin, into a new national park. The book makes a broad and interesting survey of the county's ecology, geology, history and resources to point out its importance and the merits of opening it up for the enjoyment of the public.
The Mississippi River forms the western border of the county and the Wisconsin River marks the southern boundary. Prairie du Chien is the county seat and its largest city. The county, with its many steep rocky bluffs, is near the center of the Driftless Area.
The idea is controversial, but Stanley's plea is sincere, and he has collected a welter of interesting information to convince the reader of the importance of the project. The writing is a little rough at times, and I did note a few inaccuracies, but I also learned some things that I hadn't come across in many years of writing and reading about this area. The paintings of Mark Mittelstadt and many photos of the area certainly do a fine job of illustrating Stanley's points, but the dozens of two-page spreads of aerial photos by Robert Hurt are breath-taking and show the big picture of this beautiful county.
This large (8.75 by 11.75 inches), hardcover book is printed on very thick paper, which helps justify its hefty price. All profits from the book will be used to help establish the park and to purchase and preserve other natural areas within the Driftless Area, according the book's dust jacket.
Stanley is a resident of the Mendota Mental Health Institute in Madison, Wis., where he was sent by the courts after the fatal shooting of three men in Onalaska, Wis., in 1985. Top