Jim Meyers and Dave Lane left from Itasca on August 12 and arrived at the Gulf on October 15.
Galen Huckins, Reid Lustig, and Brian Benson departed June 14 from Chaska, Minn., on a 1970 paddlewheel, The Channel Princess.
They made podcasts and recorded musicians on their way. Their final epidode was broadcast on Sept. 21 in New Orleans.
Casey and Carson Barfels left on June 18th from Lake Itasca, heading to Prairie du Chien, then up the Wisconsin to the Fox River, destined for Appleton, Wis. They arrived on July 22. The were raising funds for Jared Allen's Homes for Wounded Warriors.
Peter and Tracy Fluke started on their tandem bicycle from their home town of Ashwaubenon, Wis., (near Green Bay) on Sept. 4. They began their journey down the Mississippi River Trail from Itasca on September 15, making it to New Orleans in late October.
Links: Facebook, Blog, and Live Tracking.
Alyssum Pohl, documenting water quality and plastic waste. Many photos on website, stories about River Angels. She left Itasca on June 27th. Paddled with with Jake Tavakoli and Julie Haskell, then with Leanne Davis to the Gulf.
Leanne Davis is paddling the river to raise awareness for PTSD. She left Itasca on July 2. Her website includes her own experience with PTSD.
A Secret History of American River People
Wes Modes is on his second year of documenting river people and rafting on the river.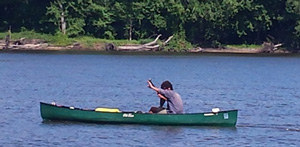 Itay Nakash started at Itasca on June 11. As far as he knows, he is the first person from Israel paddling the Mississippi from source to sea. His Mississippi trip is part of a trip around the world. He reached the Gulf on or before August 26th.
Reached the Gulf on August 15th
Dale Sanders, Richard Sojourner and Tom Graves canoed the Mississippi for juvenile diabetes. They departed from Itasca in May and were joined by Austin Graham and Brad Tallent who are filming the trip. Sanders, at 80 years old, is aiming to be the oldest paddler to canoe the entire length of the Mississippi. Dale Sanders Source to Sea Facebook page. Tom Graves' blog
Paddle for Prevention Mississippi River Trip
Corey Smock and Lance Loney, both from Decorah, Iowa, started paddling in late May. They raised funds for the American Foundation for Suicide Prevention. They ended their trip, for now, at Mile Marker 146, just upstream of New Orleans, on August 2nd. From their blog:

Day 60: The end of our journey...
8/2/2015
We had to make a pretty big decision today for our journey. After 60 days we have decided to end the trip. The high waters and constant boat traffic put us at a state where we no longer feel safe being on the Mississippi River. We are pretty bummed we have to end 146 miles short of the gulf, but we have come a long way and are proud of ourselves for that! Paddling 2150 miles and raising $14,571 for the American Foundation for Suicide Prevention has made this a journey of a lifetime! We've met a lot of great people on this trip and have had a lot of support for our cause. We can't thank everyone enough and hope you enjoyed following our journey as much as we have!
The Mississippi River Expedition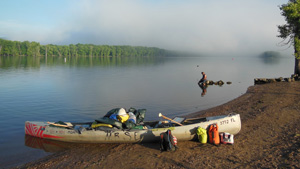 (Photo from their blog)
Alex Ross, Forest Schoessow and Shea Selsor paddled in a 1970s heavy-aluminum 20' Grumman freighter canoe. Nice blog, with birding info too. They have made it to the Gulf.
Wild & Crazy Week *** Facebook
Nat Ratchen, from Portland, Ore., left Lake Itasca on June 23rd and left the river in August at Glen Haven, Wis.
Joshua and Brady Baxter left Lake itasca on Juy 27th and left the river at Winona, Minn., on Aug. 15th.
David Forbes launched from Itasca on June 13th, but a nagging shoulder injury stopped him in July. David paddled the Missouri River in 2014. Read Rod Wellington's account of meeting him on David's FB page.
(Rod paddled the Missouri and Mississippi in 2012-2013 and is author of "Part-Time Superheroes, Full-Time Friends.")
Everett McMillen and Will Jonsson, the Kentuckian and the Swede. Launched from Itasca June 12 and reached the Gulf 65 days later on August 15. Great Facebook page
Dave Roberts entered the Mississippi in Bemidji on June 17, then had his kayak and gear stolen in Brainerd. Thanks to a friend, he was back on the river at Bohemian Flats in Minneapolis on July 3. Near St. Louis he was joined by George Mudge. They reached Venice, La., on Aug. 29th. Good reading and photos on the blog. From the blog: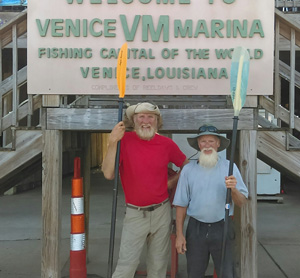 Dave "Elusive" Roberts and George "5:30″ Mudge finished their paddle of the Mississippi River. Dave paddled 2082 miles in 73 days, averaging 28 miles per day. George paddled 1110 miles in 30 days, averaging 37 miles per day.
Amit Shah and Alex Woodford are raising money for the British Exploring Society. They left Itasca on May 16, and locked through Upper St. Anthony Falls on June 3, just a week before it closed.
The made it to the Gulf on July 22.
Rediscovering North America: A Journey From the Gulf of Mexico to the Arctic Ocean
Six friends paddled upsteam from the Gulf to the Arctic Ocean. The crew: Minnesotans Adam Trigg, Winchell Delano, Daniel Flynn and John Keaveny; and Iowans Jarrad Moore and Luke Kimmes.
They made to the Arctic Ocean (Kugluktuck, Nunavut Canada) after 245 days. Congratulations! We were pleased to meet them when they passed by Winona.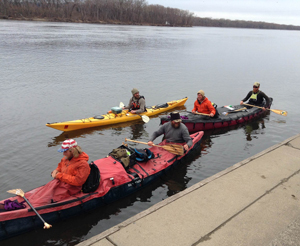 Going the Wrong Way on Purpose - story of the Rediscover North America crew by Ryan Johnson. May-June 2015 (pdf)

Canoe & Kayak * St. Charles Herald * St. Cloud Times
Kayak 4 Earth - Connecting Climate Chaos
Steve Posselt headed upriver from the Gulf on March 3rd and left the swollen river at Memphis on April 11. He then biked to New York where he will board the Queen Mary 2.
Ellen on the Missouri
2014 Solo Mississippi Source to Sea kayaker Ellen McDonah is padding the Missouri this year. You can keep up with her on Facebook
Janet & Greg Gottsacker — Last leg of a multi-year trip. Started in 2013, finished at the Gulf on April 30th, 2015
Johnny Mac's Mississippi River Adventure
John McFarland left the river in Minnesota mid-June. Read his post here. You can feel the mosquitoes and ticks.
Ryan Gallagher Departed Lake Itasca in late May and lost his canoe in a rapids in mid June, then left the river.
Siegfried Huffnagle raised funds for the Ashaninka Rainforest in Peru.Trip ended in Dubuque.
Kayak the Heartland-Paddle Expedition: A LIVEout event-1591 miles from the source of the Wabash to the Gulf of Mexico
John & LaNae Abnet started at the headwaters of the Wabash River on April 3rd, then kayaked the Ohio to the Mississippi at Cairo, Ill. They made it to the Gulf on July 10. Facebook page