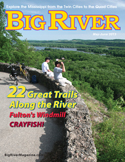 Useful links if you're considering a trip down the Mississippi
River Travelogues (Big River 2001
Navigation charts of the Upper Mississippi - PDF download page
Army Corps of Engineers - St. Paul District
Army Corps of Engineers-Rock Island District
Mississippi National River and Recreation Area (Mpls/St. Paul)
Mississippi River Parkway Commission - Mississippi River travel site
Preparing for a Long River Cruise, Jan. 2008, Big River (pdf)
Planning for the Great Loop around the eastern United States
By Captain Larry Martin
Canoe Routes and Maps of the Mississippi:
Mississippi River Recreational Boating Guide (Iowa DNR)
Mississippi River Trail - follows the river through ten states. On-road and bicycle/pedestrian maps.
Bits & Pieces
Added Cole Schiffler and Adam Spanier to the 2013 paddlers.
Here's a link to Noel DeCavalcantes' story about his solo paddle down the river in 1990. A good read, especially if you're thinking about a trip like this and you are no longer a teenager.
Here's another link for the post-50's: All sorts of helpful information from Ron Haines, who paddled the length of the river alone in 2003 at age 59.
As always, let us know of any other river adventures to list here.
Also - Feel free to post your links and travel plans on our Facebook Page.
Grammy-winners! The Okee-Dokee Brothers canoed down the Mississippi in June 2011, composing songs along the way. The resulting CD/DVD, "Can You Canoe?" was released on May 15th, 2012. See and hear the trailer on their site or on YouTube. They won the Grammy for the Best Children's Album of 2012.
2009 river traveler Brett Rogers released a 90-minute film about his journey rowing down the Mississippi with five others. See the YouTube Trailer of Old Man River. more about Brett's trip.
We added another 2011 trip: Juergen Kohlheim from Germany and his daughter Ute rowed from Bemidji, Minn., to the Gulf. Here's his blog, Rowing the Mississippi, in German and English. Here they are on YouTube
2013 Mississippi River trips — let us know about yours!
Lucas Will & Natalie Jackson called their Mississippi River adventure, Paddle In Hand (facebook)
Matthew Brown, a lecturer at Middle Tennessee State University, and photographer Justin Orlowski started down the river from Itasca in May 2013, interviewing people and taking photos. See The River Sonnet. And a news story here.
Cole Schiffler and Adam Spanier paddled from the headwaters to just north of New Orleans. They started on Sept. 3rd and it took them 64 days. They continued their adventure on bicycles in Costa Rica.
Conner Morton and a friend traversed the Mississippi River, Itasca to Gulf, in 100 days, starting on Aug. 28. They paddled the first half of the river in a canoe, then were given a free sailboat and sailing lessons in Lake Pepin. They finished the rest of the Upper and Lower Miss on the sailboat. (AKA the Topeka band Yak Bastard.) Topeka news site story
Father and son Rick and Dale Waldo from White Lake, Michigan, started canoeing at Lake Itasca on May 20. They made it to the Gulf on July 15. Here is a news report from Louisiana on July 18. Read their blog, Mississippi River Canoe Trip 2013.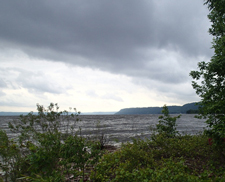 Lake Pepin looking uninviting. (Rick & Dale Waldo)
On Sept. 18, ten people will take off on their from Lake Itasca on their journey down the Mississippi River.
They'll be canoeing more than 2,300 miles with a videographer to document how watershed communities use and interact with the river. They're calling the project, organized by Minneapolis nonprofit Wild River Academy, Paddle Forward. Listen to interview with Natalie Warren. Press release
Butch Stearns suspended his 2012 trip at The Chain of Rocks Dam in July 2012 due to a shoulder injury. After recovering from shoulder surgery he will launch at Mile 190, Chain of Rocks, on 29 June to continue the trip to the Gulf. Does anyone have an update?
Gayle Harper made like a drop of water and traveled the Mississippi from the headwaters to the Gulf in 90 days. The photographer-writer will be publishing a book about her road trip. Her blog, Surrendering to Serendipity. Day One of the journey is here.
The Mississippi Challenge 2013, Brits Sam Norman, Matt Fraser and Harry Hogg started their journey down the Mississippi River on June 5 from source to sea by kayak. They are raising money for Help for Heroes. Facebook A link from the Natchez Democrat
Stan Cornelius and his brother will navigate many rivers on their pontoon boat from Iowa to Alabama in August-September 2013.
They will be start on a small creek near Andrew, Iowa, down to the Maquoketa River, then to the Mississippi near Bellevue, Iowa, down the Mississippi to the Ohio River, up the Ohio and then the Tennesse River to Florence, Alabama, where they have a winter home. Check out their website.
David Blomquist and fiance Linnea Goderstad are planning to paddle from Lake Itasca to New Orleans in their 17' Alumacraft canoe starting Memorial Weekend. Follow their trip on their Traveling Riverside Blog.
Jim Greer and his crew are taking Ra, a solar-powered 48-foot center-hull trimaran that he designed and built, around the Great Loop - up the Eastern seaboard, through the Great Lakes and down the Mississippi to the Gulf. They are in Georgia as of the beginning of May. Their website, Facebook St. Augustine news story.
We'll let you know when they hit the Mississippi.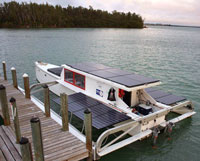 copyright 2012 Studio 4 Design, LLC
(more images on their Facebook page.
Mississippi River Water Walk 2013
A group of indigenous women will carry a copper pail of water from the headwaters of the Mississippi in Minnesota to where the river empties into the Gulf of Mexico in Louisiana.
The walkers and supporters left Lake Itasca State Park on March 1 and expect to reach the Gulf around April 29th. The walkers welcome people to come and join for a day. Contact them and keep track on their Facebook Group Page.
Here's a nice description: Women Walk to Heal the River by Bill Kingsbury (pdf). Ruben Rosario in the Pioneer Press

Press Release

Article from Indian Country
Jeff Steenerson is taking a road trip UP the Mississippi River Road from Venice, LA to Lake Itasca, MN in July, 2013. We'll post more as it gets closer.
2012 Mississippi River trips — let us know about yours!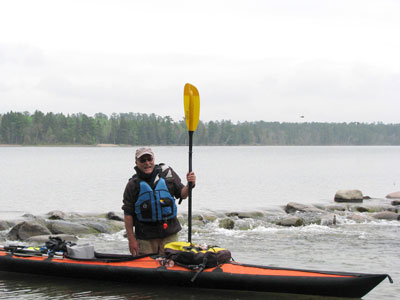 And it begins … Dave Ellingson launching at Lake Itasca. (Courtesy of Jim Lewis) Read about his trip
Teenager and Eagle Scout Benton Purnell from Oakland, Maine, canoed the Mississippi in the summer of 2012. Read a newspaper account of his journey.
Jackson and Justin Dobies rafted down the river in a pontoon boat during the summer of 2012 as an independent project financed by a summer stipend from Princeton University, where Jackson is a student. Watch their video and read about their story in the Princeton News.
Daniel Alvarez kayaked 4,000 miles from Angle Inlet, Minn., to Key West, Florida. He started on June 11, 2012. His trip took hom through the Boundary Waters, Lake Superior, the Mississippi and down the Gulf Coast. Here's a story from the Tampa Bay Times. Read about his trip on his blog predictably lost. Here's a sample:
Below Lock 5, Mississippi River – October 4, 2012

I flew toward Lock 5 feeling like a rodeo clown in a bull-pushed barrel. Miles of open water above the lock gave the wind full reign to conjure waves that tossed me forward, smashed the Looksha through walls of water, and splashed over the deck. The river felt like a wild ocean and delighted in the effort.

The Looksha laughed with it, rising and falling, playing with the waves, enjoying the chaos that threw us toward the lock. I hung on and watched the concrete walls grow bigger, watched the closed gate rise up like the entrance to a castle, and knew I needed to knock.

"Lock 5, this is the yellow kayak southbound, any chance you can lock me down?" I called over the radio.

The speaker clicked and spewed a garble of words and static that the wind ripped away.

"Sorry," I said, dropping my paddle and hunching over the radio. "Can you repeat that?"

Waves spun and lifted me into the air, dropped me down, and yanked me up again.

"This is Lock 5," the radio called back. "Just a few minutes, we're filling her up now."

I dropped the radio and spun toward the lock, drifting closer, waiting to hear the grinding yawn of the metal gates cracking apart. Waves swirled and crashed around me, bouncing off the lock's walls, turning the concrete channel into rising and falling chaos. As the gates broke apart, the water turned mad at the thought of my escape. It punched me up and sideways, down and back, a dozen ways at once, then threw me inside the lock like an angry child forced to give up its toy.

The grind of metal filled the air and the doors closed behind me. Everything went calm in an instant, like it had all been my imagination. Then I heard myself breathing, feeding oxygen to my still-pumping heart, and felt like I always do in that moment after a rollercoaster skids to a stop.

"A bit windy today, huh?" the lockman said as he tossed me a rope to hang on to.

"Just a bit," I said, grinning back at him. "Just a bit."
Dominique Liboiron canoed from Saskatchewan to New Orleans to honor his late uncle. He began his eight-month trip on June 8, 2012. Read about his mission here.
Paul Everitt spent six weeks rafting down the river in the summer of 2012. Old School Mississippi Rafting Adventure video link
Mostly we hear about the great experiences people have on the river — the following is one of Paul's not-so-great:
The Mississippi 2012

In July 2012 I flew out to St Paul, MN from the UK with nothing but my backpack, tent and life-jacket. I sat on the shores of the Mississippi for 4 days building the mighty raft, with the help of a few locals. The raft was built with nothing but rope and timber supplied by a local lumber mill. I was very unsure if she would float... but she did like a beauty once she hit the water and settled into the current. The trip was incredible, it taught me a lot about myself and gave me much respect to people who once upon a time ago traveled in a similar way to navigate this great river.

I've never really experienced "life" on a river before and was very unsure how the people who use the river on a daily basis would take me and my old school raft. It wasn't long into my first day I had a run in with the local Sheriff who pulled me over on his very fast speedboat, after a quick chat to make sure I had all the correct safety gear it be came apparent of there true intentions for pulling me over - they wanted a photograph. So one by one the 7 police officers jumped on the boat for a photo snap.

As the days went by the Mississippi River introduced me to people from all back grounds who all had a common interest, which was Huckleberry Finn and his adventures. Seeing the raft and I taking on the very slow running river became a novelty for many. It was also a very interesting time for survival with all the dangers that pass by daily, the biggest of them all wasn't the huge barges and tows that are shifting heavy loads but more the drunken boaters zooming up and down the river.

One evening I was ready to pass through another strenuous lock and dam a gentleman pulled up alongside me and asked if I would like a tow through the lock and damn, normally I say not to this but it was getting late in the evening and a lock can take me up to 45 minutes to pass through. The gentleman seemed nice enough, so I agreed. He tossed me down a line and I tied off my raft to his very nice pleasure boat.

Once aboard his boat we began to pass through the lock at good speed and he agreed to drop me off once clear the other side. While all this was going on the gentleman was sipping on a beer can that seemed to be bottomless. Once through the lock gates the gentleman insisted that he takes me a little bit more down the river to a "Safe" beached cove. This journey was only meant to be a few minutes but turned out to be hours, many hours. As these hours passed all I wanted was to be off his boat and be back paddling the river at my own pace. The gentleman also go even more drunker as the hours passed.

Then just before midnight he turned around to me and freaked out.. "where have you come from?... How did you get on my boat?... Who are you? as the tone of his voice got more aggressive. Clearly it wasn't beer in his beer can but more like straight vodka. As I tried to explain myself the gentleman did a u-turn back up the river in the direction of the dam again. But strangely luck was now on my side as his boat collided with my raft causing the tow rope to tangle in the motors of the boat that finally stalled the engines. With only moments to react I pulled in my raft with the tow rope and jumped on board to much missed raft.

First thing I did was get my life jacket on which had my knife attached to it. I now had to pull in my raft to the motor as I needed as much of that tow rope as possible as it was also my life line. The gentleman now more confused was trying to start the motors again, I shouted up to him to step away from the controls and stand at the back of the boat while I cut free. Lucky for me the gentleman agreed and watched on as I cut free.

With my head down and back concentrating on cutting free the tangled rope the engines started to fire up. As I cut the last strand free and pulled away my hand the propeller went into full swing and actually started to suck my hand back in towards it. I couldn't believe it, the gentleman had totally forgotten I was there and started to move away.

I got back into my rowing seat and started rowing for my life in the pitch blackness of the Mississippi River, I could hardly see the rivers edge. As I looked up to see where the gentleman was I was shocked to see him coming straight back towards me and the raft. He ended up crashing into me. Luckily the raft hardly moved as his boat bounced off and headed off down river. Once safe on land I curled up in my tent praying I didn't get another visit.

That was my only bad experience on the river, and one I was lucky to walk away from. The Mississippi gave me many stories, friends, and mini adventures on and off. Whilst on the river I started to think about what my next expedition would be. I decided to opt for a more efficient form of transport than using a 10 kph bikecar and a 5 kph raft. During the summer of 2013 I will be kayaking the coastline of the Baltic Sea, Starting in Norway and finishing in in Denmark. As of now I can't find anyone who has done all 6000km (3700mi) of the Baltic Sea coastline. I plan to take about 5-6 months.
Kevin and Sharon from Canada started at the headwaters on September 28. Near the Tennessee border their canoe slipped away during the night without them while they camped on an island. Search & Rescue brought them back to he mainland and as of Dec. 26 they are hitching a ride to Memphis. Check out their adventures on their blog, two canucks in a canoe.
Actress and playwright Dawn Brodey and friend Melby embarked on their journey Oct. 8 from the Watergate Marina in St. Paul. They were on an old houseboat, The Road, that she lived aboard year-round for over five years, a 1974 Fiberglass Nautaline. Read The Captain's Blog, her account of the 32-day trip down the Mississippi and the Tenn-Tom, into Mobile Bay and the Gulf of Mexico. Read about their great time at the Bombfire Pizza in Sabula, Iowa, followed the next day by a rough day on the river.
52-year-old Andy Bugh kayaked down the Missouri and Mississippi rivers, starting in Brower's Spring, Mont., on July 1, 2011, and finishing in Morgan City, La., on May 19, 2012, suspending his trip from late November to mid-April.
Here's Andy's take on his experiences:
"People told me I should carry a gun but I said I don't need one…I've gotten to see a whole country that is full of wonderful people…our country is full of people that really care about each other and care about a srtanger paddling through." (From the Star Local News)
Andy's blog, Expedition 4 Education
Kip Hoffmann paddled standing up 36 miles of the Mississippi River along Dubuque County, Iowa to raise funds for Riverview Center, a non-profit organization in Dubuque that offers services to victims of violence. Facebook Riverview Center on Facebook
Mark Downey, Jeff Nelson, Jonathan Sawyer and Ben "Otter" Theimer made their way down the river as part of the Riverview Project, a photographic database of America's rivers. They arrived at the gulf in the middle of August.
Here's an excerpt from Downey's blog, Blogging Down the Mississippi River. The entries are a real joy to read.
The generosity and true friendliness of river folks is as meaningful as any sandbars or clouds we experience on the Mississippi itself. Attitudes change whenever we leave the River and get into the bigger towns, but it seems that people out on the water are touched by the water; I've never been tossed drinks or sandwiches or catfish walking down the street, or offered so many rides, so many places to stay, even money, you sure you don't need something more? To all the stay-at-home moms, gas station workers, pizza boys, beach bums, soybean farmers, and fish and wildlife agents out there on the Mississippi, you continue to illuminate our journey. The River is with you; may it also be with us and stay with us even when we walk on dry land once again.
Misterssippi Expedition Document (lots of photos)
Rick Mertens will launch from West Lafayette, Indiana, on May 27 onto the Wabash River, then down to the Ohio and finally the Mississippi River to the Gulf. His Facebook Page, Mississippi River Journey, seems to be inactive.
Mark Kalch from the UK is planning a solo trip down the Missouri and Mississippi in June. He will paddle a 17-ft Scorpio touring kayak, and figures it will take him four or five months. This trip is the second in his quest to paddle the longest river on each continent. He completed the Amazon in 2008. Story in ExplorersWeb Mark's progress 7 rivers 7 continents site Mark Kalch personal website
Ben Royer, Matt Snow and JD Rayson will start their river trip on May 23. They met on the Appalachian Trail in 2010. On the way down the Mississippi they will stop and organize events to benefit the Multiple Sclerosis Society.Facebook Page Down River Earlier: Matt's blog. In the news
Newlyweds Andy and Lyndey Mundell are planning to canoe from Indianapolis to New Orleans this summer. They will be take the White River, Wabash, Ohio, and Mississippi. Stay tuned for reports on their second honeymoon.
UPDATE: As of July 10th, Andy and Lyndey returned home safely. They made it from Broadripple Park in Indianapolis to the Inner Harbor Navigation Canal Surge Barrier that was built to protect New Orleans from future hurricanes out by Lake Borgne. GPS coordinates were posted nightly on the twitter handle @MrMundell.
The Rev. David Ellingson from Edmonds, Washington, plans to begin his three-month paddle downriver on May 14th. Ellingson, 64, is a Lutheran pastor and college professor. He is a veteran of the Ironman Triathlon and the Boston Marathon. See Paddle Pilgrim, his blog. In the news
Charlie McVea will begin a solo canoe trip in a 16-ft Bell Canoe Works Chestnut Prospector the first week of August 2012. He is sixty-six and retired, and here's what he has to say:
I wanted to do this since I was twelve when my dad and I started fishing northern MN to escape south Louisiana summers, the same year he gave me a copy of "Canoeing With The Cree" by E.S. Living now in south Mississippi. Retired after thirty years in the maritime industry.
Big River note: "Canoeing with the Cree" was the young Eric Servareid's account of his canoe journey from Minneapolis to Hudson Bay in 1930 with his friend Walter Port. None of that facebook or twitter stuff then, but the articles Sevareid wrote for the Minneapolis Star when he was in his teens launched his journalism career. So carry on travelers, you never know where a river journey may take you. Carry on Charlie, and all the Mississippi River travelers.
Paddle Crew Four friends/snowboarders in two canoes, heading out from Lake Itaska at the end of May. Jen Sass, Brian Reichel, Cody Prudoehl and Kyle Thompson along with Meiko the wonder dog - going down to the Gulf of Mexico.
Check out their Facebook Page, their website and watch for their tweets. Also, in the news.
"Our itinerary and all info about this rag-tag group of crazies is on our website. and feel free to contact us through any social media or our email, we love questions or just cool people to chat with. People paddle the river every year, but i guarantee we are the only ones to do it with the shenanigans we have in mind!"
Well, I wonder what they have in mind??! Let's keep an eye on this group!
Garrett Gnade started paddleboarding down the river on Aug 28, 2011, in Lake Itasca. He plans to go to Key West, Florida. On April 2, 2012, he was in Angola, Louisiana. Facebook (Tom N Huck)
On May 4, 2012, he posted that he was stopping for a while and heading to Iowa.
"From source to saltwater 2552 miles not counting additional exploring. Nine months of camping, paddling, and experiencing the Mississippi river! I have traveled farther than anyone ever on a SUP!He traveled."

Don't miss his great photos of the river and the people he met!
Butch Stearns will start kayaking the Mississippi on or about May 30, 2012. He is planning a 3-day break in St Louis, then on to the Gulf.
UPDATE: As of July 11, Butch has suspended his trip due to injury.
July 2013: See update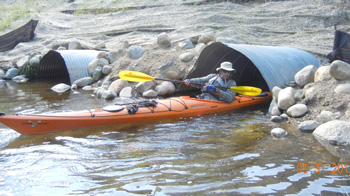 Butch near Lake Itasca.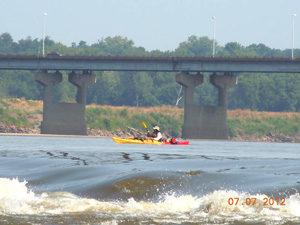 Butch at the Chain of Rocks dam near St. Louis.
Doug Pace from Ontario, Canada, will start kayaking the Mississippi at Lake Itasca in May. Pace, 51, is legally blind. Read a news account and keep up with him on Facebook (Blindkayaker).
Ongoing Take a Hike: Australian Michael Barrett started on a solo trek along the Mississippi on September 28 at Itasca. He hopes to raise awareness and money for struggling communites in Colombia. Check out his account at Journey Down the Mississippi . Michael almost finished his trek in 2011. He will walk from Tunica, Miss., to New Orleans sometime in 2012.
From his blog: November 4, 2011 : (Michael in Illinois. All along the way, he is being helped by strangers, in many unexpected ways.)
Earlier today about 15kms out of Montpelier, a woman stopped her car beside me and started yelling questions at me from the window "What are ya doing", "Are ya hungry", "Where ya going". I went to say gday and answer her questions and she sped off down the road. Getting used to strange people and events I laughed it off and continued on. A half hour later a familiar looking car came speeding towards me from the opposite direction and the yelling lady was back again. She produced a little can of oil from her car and told me I had to oil the wheels of my cart as they were too noisy and would not make it much further. She then produced three bannanas, a mountain dew and a box of carrot cookies (better than they sound beleive me) and thrust them into my arms with all the affection of a rottweiler. I told her she was a hero and she had made my day, she gave me her first smile, told me "God Bless Honey" and sped off again.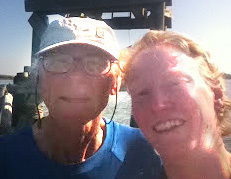 Juergen Kohlheim from Germany and his daughter Ute rowed from Bemidji, Minn., to the Gulf. Here's his blog, Rowing the Mississippi, in German and English. Watch them on YouTube - courtesy of Lakeland public television.
Ryan Emerson from North Carolina started his solo canoe trip at the Headwaters on Sept. 9. See his blog, Float Onward. Here's a news story from Minnesota.
Ryan started late enough in the season to experience frosty mornings. But he lucked out and paddled the 14-mile expanse of Lake Winnibigoshish on a calm day. (The lake can be one of the early obstacles for paddlers - practically impossible to cross on a windy day.)
Al Sazama, Conor Pesci and Sean Hickey left August 16 for their journey from Lake Itasca to Venice, Louisiana. Check out their blog: MN to LA, Our Wild Ride Down the Mississippi.
and Twitter.
Davin Louma started his trip July 26th at Lake Itasca. He was in Natchez at the end of September. You can keep up with him on his Facebook page, Freedom 31: Mississippi Source to Sea.

Davin made it to New Orleans on October 7.
Wisconsinite Ben Jonas set off from Eau Claire alone in a canoe on the Chippewa River early in June and headed downstream. Then the Chippewa opened into the Mississippi. He kept on paddling, and 38 days later his parents picked him up in Louisiana. See Doug Moe's account in Madison's Cap Times.
An excerpt:
Jonas reached the Mississippi on Day 2. He awoke that morning — having paddled eight hours the day before — as sore as he'd ever been. The day on the Chippewa had been uneventful, but the Mississippi's vastness got his attention.

There was a day when he was pummeled by ugly flying carp and another when a family of deer swam past his canoe close enough to touch.
Three paddlers paddled down the river standing up.
| | |
| --- | --- |
| | Alex Linnell from Minnesota had a head start -- he launched his paddleboard on June 1st at the headwaters. He figured it would take 60 to 90 days to get to the Gulf of Mexico. He was promoting donations to the Red Cross to help flood victims. Alex's site |
Alex reached the Gulf on Tuesday, August 9th.
Alex traveled from June 1 to August 9, 70 days. He paddled 65 of those days. His official mileage is 2323 miles. From his website:
I have calculated my Mississippi River mileage conservatively at 2323 miles. This is calculated using the MN/Dept. of Natural Resources and U.S. Army Corps of Engineers river map mileage. I have added for my miles across Lake Itasca (4.5 miles) and for the longer route I took across the three large northern Minnesota lakes (2.1 miles) along with the route I took at the river delta.
I did not add for: the city harbors I paddled into; two short sections I paddled twice; irregular routes common to stand up paddling; or routes taken to avoid tows and their wakes. My actual mileage was likely 1-2% higher if there was a way to accurately record all of these items.
I hope this answers everyone's questions. Thank you all for the amazing support!
Video Highlights British adventurer Dave Cornthwaite launched his Source to Sea paddleboard trip down the river on June 20. According to his website, he figured it would take three months to reach the Gulf. His itinerary had him at the Gulf on September 10. Dave's Mississippi page
Dave entered the Gulf on Friday, September 9th (one day before his visa expired). He traveled 68 days and 2404 miles. See Dave's blog entry where he talks about distance and world records.
Floridian Matthew "Tumbleweed" Crofton launched his board on June 10. He kept an online journal. A good read - his Ten Hours on the Mississippi, about the less-than-illustrious beginning of his journey.
Excerpts from Matt's blog:
July 15, 2011
Woke up to some bad rain and wind in Hastings. Been in this town for three days now. Got kicked out of the park by the sherrif because of "River Days" festival. Can't have a bum in the park! So I packed up my gear in the rain, climbed into the river, and 100 yards down ran into non other than Dave Cornthwaite! My friend from England that is paddleing the Mississippi as well.
June 29, 2011
Longest day on the river so far... 31 miles!

Yesterday when I was launching I looked up ahead and there, 100 yards ahead of me, was the 3rd runner up on the river, Dave Cornthwaite. I have to say I could not be happier losing my 2nd place postion to a better man. I knew eventually I'd be in last place because my disease does not let me go far before my feet and legs swell up. Dave and I camped out together, had a couple beers and told some great stories. Dave is an amazing guy doing amazing things and I look forward to seeing him at the end of the line... and I look forward to being his friend.
Read about his close call — being sucked under the gates at Lock and Dam 16 in Muscatine — in this news story.
Sept. 27: Matt made it to the Gulf
Galen Bowles, Chad Smith and Gage Hearn
Lake Itasca to Natchez
Anthony Reinert from Lake Forest, Ill., started a trip down the Mississippi River on May 20 at the headwaters. He paddled a 17-ft canoe, the Kandu Queen, first with his father and then with a friend from the Appalachian Trail. Check out his blog. and his Facebook Page.
Anthony made it to New Orleans on July 15.
New Zealander Greg Dunning started his solo kayaking trip down the river at Lake Itaska on May 30th. He wanted to make the trip in 90 days max, since that's when his visa expired. Read his reports on his blog, Musselman's Mississippi Kayak Adventure.
Greg made the Gulf by the end of July.
The Okee Dokee Brothers, a bluegrass duo from Minneapolis, canoed from Lake Itasca to St. Louis from June 1 to July 8. They composed songs about the river for a new children's album on the way. MPR story 2013 Update: They won a Grammy for best children's album of 2012!
Cliff Walls and Alex Poe, both 23 and hailing from Michigan, canoed a 17-ft metal canoe the length of the river for the "Friends of the Fishermen Fund," a charity for families suffering the loss of fishing livelihoods from the 2010 oil spill in the Gulf. Follow their Mississippi "source-to-sea" trip on their blog. They completed the 2,350-mile trip in 54 days in mid-July.
From their blog:
This trip taught us two simple, major lessons. First, despite what the TV tells you, people are nice. Everyone along the river was so willing to give us a hand, and we will certainly remember this for the rest of our lives. Second, if you want to do something, do it. As the captain of the Emerald Isle taught us, "Life is like a dollar bill, you either spend it or you nickel and dime it away."

We will never forget this trip, the people we met, the people who helped us, and the beauty of America's river. What a hell of a ride.
The brothers Bragiel - Peter, Paul and Dan, and a friend, Tony Corella, paddled two bright yellow Wenonah canoes from Lake Itasca to Louisiana. They started on July 14 and finished on September 12. Back in LA, Peter, a travel filmmaker, is preparing a video of the trip for YouTube. Peter financed the trip in part with winnings from a contest on YouTube Next Up.
You can watch the half-way video at St. Louis on YouTube now, and follow Peter on Facebook and Twitter. Check out his website, InTransit .
Media coverage from Baton Rouge and Keokuk, Iowa.
47-year-old Jeff Pearson from California started his journey in a kayak, the Delta Serf, on May 11th from Lake Itasca. Two and a half weeks later he made the news when his kayak was stolen and recovered in St. Cloud, Minn. His son Derek joined him in St. Louis.
Gene Iserman, a student at Crowne College in St. Bonifacius, Minn., started his trip at the headwaters in June to raise money for two charities: Feed My Starving Children and Water for Life. Along the way he kayaked with different partners. In Minneapolis at the beginning of July, he said that the trip was already an adventure of a lifetime, and many people have helped him out. Check out his blog.
Gene finished his trip to the Gulf on August 6.
This couple put their house up for sale and sailed from Pepin, Wis., on the Green Heron, their 25-ft. Pacific Seacraft. They plan to sail down to the Ohio, across to Kentucky Lakes, down the Tenn-Tom Waterway and into the Gulf at Mobile, Ala. Read their account on their blog, Bob and Suzy's Big Adventure.
Send us a note if you hear of any other river travelers!
2011 Group paddle trips
Floatzilla August 20, 2011. The second Guinness World Records attempt to amass the world's largest raft of canoes and kayaks. The Quad Cities Paddlesports Festival is coordinated by River Action.
Floatzilla 2011 drew 1,535 Paddlers from 17 States, but it didn't set a new record. See photos on the website.
Mississippi River Challenge 2011 July 30 and 31. A great group paddle in the Twin Cities organized by Friends of the Mississippi River to raise money for a cleaner, healthier river.
Be Moved
, the St. Croix River Association's paddle from July 5 to 22, took paddlers 80 river miles from the top of Upper St. Croix Lake at Solon Springs, down to the confluence with the Mississippi River at Prescott, Wis.
Great River Rumble 2011 Rumble had to be cancelled because of extremely high water. The trip planned to take paddlers down the Missouri from July 30 to August 6, starting at Jefferson City, Mo., and ending at the Mississippi confluence at Lewis and Clark State Park, downstream of Alton, Ill.
Urban Boatbuilders is a youth service agency in St. Paul that uses wooden boatbuilding as a means to support positive youth development. Every summer they take an 80-mile trip on the Mississippi.
Join the Nature Conservancy and the Great Rivers Partnership for a virtual trip down the Mississippi. Stories, lots of information.
2010 Mississippi River trips
The Unseen Ghost Brigade found their way to Caruthersville, Mo., on their home-made boat, the Riff Raft. They filmed their adventure and stopped in cities along the way to perform at bars and clubs. In November they broke up the boat with plans to take it back upriver to Latsch Island in Winona, Minn. Some of the brigade will be back on the river next summer to finish their film. Visit them on Facebook or their website.
Aaron Drendel and Jake Mullins from Batavia, Ill., canoed the Mississippi to raise funds for breast cancer research. They left Lake Itasca on May 29 and arrived at the Gulf of Mexico 52 days later, raising over $7,000. You can still read their story, see their pictures and donate to the cure on their blog.
Stats from their site:
239=total miles paddled
48=days paddled
52=total days including days off
46.6=Average miles paddled per day
10=states
35=pounds lost for both Aaron and Jake
Ryan Jeanes and Phillip Hullquist kayaked down the river in 2009, and in the summer and fall of 2010 toured rivertowns showing their movie, "The River Is Life." • The River is Life website • Facebook
Norwegian Eddy Ferreira and friend Jan Bronnich took a trip down the Mississippi in a faering (a four-oared boat). The boat is a replica of an old Norwegian fishing boat, 17 feet long, and approx. 400 lbs.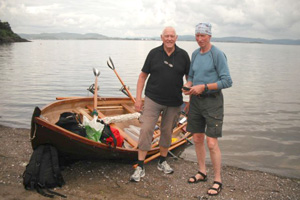 Read the story of their trip from Bemidji to Memphis in their blog. (some in Norwegian)
Paddle for the Planet: A solar & human powered educational trip down the Mississippi River from Lake Itasca to St. Paul to "study and reveal the connections between ourselves, the river and the planet." They began the journey on April 27 and finished with a celebration in St. Paul on May 23.
Paddle to Haiti Cousins Michael and Louis Gutschenritter and four others paddled down the river starting in September 2010 to raise money for Haiti. They are in Steamboat Springs now for the winter, but you can still read about their river adventure on their blog.
Texan Josh Troegle canoed down the river from Itasca to New Orleans. See the News Story from Burlington, Iowa, and another good read from the Arlington Citizen-Journal.
Veasey Conway, Cambridge, Mass., and Daniel Kelley, Palo Alto, Cal., met at Carleton College in Northfield, Minn. They paddled a canoe down the river from Lake Itasca to Memphis, "to discover the river – the land, the people.. " See their blog, The Mississippi Adventure.
2009 Mississippi River trips
Down the Mississippi: a journey through Obama's America (Google map)
The Telegraph US Editor Toby Harnden and photographer Julian Simmonds travel the river from Minnesota to New Orleans.
Paul Schneider and his son kayaked 105 miles from below St. Louis to Cape Girardeau in June of 2009 in rising water. You can read his story Peacefully Adrift as the Mississippi River Just Rolls Along in the New York Times. "We hadn't come to the Mississippi to prove or conquer anything. We just came to see what the most storied river in America had to offer a couple of supplicants with plastic boats and a week and a half with which to play." And, "As soon as you are in the water, you know immediately that you belong to the river. It commands every sense. There's the sound a truly big river makes — not loud, but nonetheless vast and soothing, more like a wind over grasses than a waterfall." A good read.
Texan Brian Righi kayaked down the Mississippi from Lake Itasca in late summer 2009. You can read about his adventures, including a hit-and-run by a powerboat near St. Louis, in these news articles. Watch for his book about the trip in late 2010 . Sept. 2, 2009 • Aug. 9, 2009
Mike Arndt made an August 2009 solo unsupported Mississippi River trip. In February 2010 he wrote us:
"My trip was something! 675 miles of the Upper Mississippi in a canoe I made in the spring of '09. Aitkin MN. to Fort Madison IA. I had to take off when waterfowl hunting season started. I'm thinking about a book covering the 22 day river trip and blind shuttle. No plan at the start to get back to Flagstaff AZ my home."
Old Man River project - Canadian Brett Rogers and five others rowed and sailed down the river in a 32-foot wooden York Boat, Annie. In 2012 he released the film Old Man River, an account of their 110-day journey. YouTube Trailer
Brett talks to National Geographic about the boat:
The York was a fur trade boat originally built by the Hudson's Bay Company and used as the transport truck of Canada and the northern United States for about 150 years. Normally, York boats were up to 40 feet long. Ours was 32 feet. It weighed a thousand pounds empty, and we had to portage it more than ten times, strapping wheels on the boat and pushing it, covering some 11 miles on land altogether. That would not have been possible with a larger boat. Throughout the trip, it always drew people to the river. It was an absolutely beautiful boat. And not only that, history had made a boat that was well suited for river and lake travel. We used it in weather that a canoe or kayak would never survive.
Eve Beglarian's River Project - Follow musician Eve Beglarian as she kayaked down the river, looking for Mississippi River music. (She loves churches too.)
From her blog:
I have developed an obsession with the Mississippi River: especially the impact of the river on the development of American culture. I am interested in how our relationship to the nature, geography, and ecology of the river is manifested in music, literature, and all the arts. Just as the Mississippi River is one of the defining natural features of the North American continent, so it has also been one of the defining features in the development of American culture: and of music in particular.
At this particular moment in American history, I have decided that I need to spend a year traveling the whole length of the Mississippi River starting from its source at Lake Itasca in Minnesota, meeting and interviewing people I find along the way, recording the sounds of the river, writing music as I travel, performing with and for members of the communities I find. more
Read about her in the New York Times, Sept. 2, 2009
Photos from Lori Gum, who joined Eve for four days brom Bellevue, Iowa, to the Quad Cities: The Magical Mississippi Tour
Mary Kay Rafferty accompanied Eve from the Twin Cities to Winona, Minn., and then took the Empire Builder to Chicago. Read about her adventures on her blog.
Another blog, this one by Mac, a fellow traveler with Eve.
Charles Dillon canoed down the river to raise awareness of hunger in America. Charles is the founder of Carpenter's House in New Orleans. He started his trip at Lake Itasca on Sept. 8 and arrived in New Orleans on Nov. 7, stopping in 50 cities and towns on the river. You can read about his trip, watch a video and pledge support on his website.
Citizen journalist for CNN Neal Moore paddled down the river and posted online. He left Minnesota in July and finished the trip in December in New Orleans. Read and watch at flashriversafari.com.
From the Quincy Herald-Whig:
"In his 16-foot Old Town Charles River canoe, Moore encountered one fascinating story after another. He camped on river islands and learned to adjust on the fly — his planned four-day stop at sustainable farm in Iowa turned into a 2 1/2-week adventure where he filed six stories."
Mississippi Float: Follow Ryan Jeanes and 11 Visions as they kayaked down the river from Minnesota to the Gulf. Here's a newspaper article from Quincy, Ill. And another from the Minneapolis Trib.
What About Blue: Kayaking down the river to raise awareness about water issues. You can listen to reports, join the team, donate and track their progress.

Take a peak at their very active website.
Tom Hilpisch of Savage, Minn., and Scott Gavett of Mounds View canoed from Lake Itasca to the Gulf. Here's their account: We Ain't the Boy Scouts Mississippi Canoe Trip
Floridians Tommy Owen and Charles Vaught kayaked from Winona, Minn., to Louisiana in 53 days. See the article in the Naples, Fla., News
June 26: Veruschka and Zelda Xox had some trouble starting out on their trip down the river on their homemade houseboat, the Velvet Glove Cast in Iron. First engine trouble, then…well, read all about it here in the Minneapolis Tribune. Their boat is impounded and their chickens are off to a chicken farm. But Veruschka and Zelda have a dream.
Raft the Mississippi: Ben Monson and Matt Folkedahl rafted the Mississippi from Minneapolis to New Orleans on a homemade pontoon-style raft. Starting on July 11, they expected to make the trip in 40 days and planned to propel their raft with electrical, solar, human and wind power. They raised money for the Special Olympics as well as the Lance Armstrong foundation.
Bigriverraft: Charlie Q. and his brother-in-law took a raft trip from Stillwater, Minn., to Memphis, Tenn. They floated down the river on the Miss Helen J, named after Charlie's aunt. You can email Charlie. He is always happy to talk about rivers and raft trips.
Raft the Mississippi River:Tom Haynie from North Carolina went down the river on the Free Bird. Short video 32 Days on the River
New Orleans or Bust: Phil and Tom (the Hucksters) canoed down the river. They completed the trip on July 28, taking 66 days from Lake Nameakagen, Wis., to New Orleans.
Mississippi River Road Trip: Follow a San Francisco family as they drive down the Great River Road.
Kristian Gustavson, a Bloomington, Ill. resident, and his father, William, relived the adventure two of Kristian's uncles had on the Mississippi 42 years ago. They followed the same route from Cairo, Ill., in the same canoe (a 17-foot Grumman) taken by Kristian's uncles – Bob and Greg Gustavson. Read stories in the Clarksdale Press Register and the Stuttgart (Ark.) Daily Leader
Kristian is the cofounder and midwest contact of Below the Surface, a California water group, a "Coast To Coast Exploration of America's Waterways," working on water conservation and improving water quality in rivers and oceans.
Tom Malkowicz and Karl Palazzolo planned to canoe from the Mississippi headwaters to the Gulf, starting in September 2008. They made it 420 miles to St. Cloud, Minn. You can follow their trip in words, pictures and videos on their website. Here's "A Man, A Camcorder, and A Very Long River" from the St. Louis RiverFront Times.
Robert Youens from Austin, Texas, paddled down the Mississippi River in the fall. His canoe, the Lone Star, carried a satellite transponder. You can track him at iboattrack.com and read about his trip - and send messages to him - on his discussion page.
Two U of Northern Colorado students, Nate Oligmueller and Dave Brandsma, drifted down the river on their homemade raft, the Bear Naked.
Update: Nate and Dave left the river just upstream from Louisiana and pulled the boat back to Colorado. From their website:
"All in all Nate and Dave had an incredible life experience floating down the Mighty Mississippi on the record flood of 2008. We met a ton of great people that we will never forget, saw things that most will never see, and experienced things that only we can fully appreciate. The best way we can sum it up is, "Those six weeks were the best year of our lives".
The Mississippi River Project : Lindseyp and Hannahb pedaled a pontooned raft, the HMR C. Bernadette Able, down the river. Surviving poison ivy, meeting Winona's boathouse folks, it's all on their blog. They finished in St. Charles, Mo., in December. If you are thinking or dreaming about a river trip, read their account. "We did an amazing thing and I have changed forever because of it."
Images from Iowa and LaCrosse, Wis.
Dominik Rauber walked the Mississippi starting July 1, 2008, in Minneapolis. Rauber, a native of Switzerland, planned to take 90 days for the trip. Follow his footsteps on his website. RSS blog link (.) Update: Dominik added a bicycle for transportation, arrived in New Orleans in August, and made his last blog entry on Aug. 14.
Mississippi Summer: Starting June 1, 2008, Justus McLarty pedaled his houseboat, the Big Getter, down the Mississippi from Minneapolis/St. Paul to the Gulf of Mexico. Justus made it to New Orleans at the end of August on day 82 of his trip. News article
Big River Show video Minneapolis to New Orleans
Bill Bowles from San Franscisco and Max Livingstone from Berkeley are blogged & videotaped their progress downriver on Evangeline, a pontoon houseboat.
Bill and Max arrived in New Orleans ("New Orlins, Nawlans or New Oieans but never New Orleens") in August 2008. Check out their wrap-up video and their jambalaya recipe on their blog.
Paddling the Lower Mississippi Two Chicago teachers and an environmental inspector from Minneapolis kayaked from St. Louis to New Orleans. Read about it on their blog.
Gary and Darrin Hoffman from Chanhasen, Minn., canoed from Lake Itasca to New Orleans in a 20-foot Kevlar canoe in 2002. Gary just published a book, Mighty Miss, about the journey. He says in a story in the Lakeshore Weekly News:
""I never realized I would just kind of fall in love with the nature on the Mississippi. We were close to civilization but it didn't always feel that way." He wants to do it again, solo, to be able to take as much time as he wants. "I regret that we couldn't have spent more time talking to the wonderful people on the river."
Jacob van der Merwe, the Crazy Kayaker, spent 59 days in 2007 kayaking the river.
Joe and Ben Palmquist - Brothers for the River - Started canoeing in Lake Itasca on August 27, 2006, to raise awareness of environmental issues facing the Mississippi. On November 9, the brothers pulled their canoe from the river in New Madrid, Mo., after paddling over 1,300 miles of the river.
The Miss Rockaway Armada - Artists and the raft they built. They started in Minneapolis on August 9, 2006, performing their way down the river. The raft wintered in Andalusia, Ill., and the trip resumed in 2007, making it to St. Louis. blog
In 2006, Matt Bullard, Cap'n Bully, piloted his homemade boat down the Mississippi. In October, it got swamped and sunk in St. Louis. Read his account
Mississippi River Quest - Adam Brooks kayaked down the river in 2006, and dedicated the trip to his father.
Source to Sea Paddling the Mississippi River to benefit the Audubon Society. (May 14 to July 27, 2005)

In September 2005, author Mary Morris traveled down the river on a houseboat after her father died suddenly. He left a note describing an island that he visited as a boyand she starts this journey to explore the river and find this island. See Big River's review of her book, The River Queen, A Memoir.
During the summer of 2004, Nancy Scheibe and Heather Jeske paddled from Lake Itasca to Red Wing, Minn. Nancy's book, Water-Women-Wisdom -- Voices From the Upper Mississippi tells the story of their trip and the meetings with women along the way. In 2007, Nancy resumed the trip downriver, from Red Wing, Minn., to St. Louis.
In 2003,at age 59, Ron Haines paddled from Lake Itasca to New Orleans. Read about his trip in his blog, Canoeing the Mississippi River.
Mississippi River Canoe Trip Journal, August 20-28, 2004, Brainerd to Elk River, Minn.
Corrado Filipponi's journey (2002)
Alaskan Bruce Nelson's canoe trip, Lake Itasca to the Gulf (2001)
In 1991, Nick Lichter canoed the Mississippi from Lake Itasca to New Orleans. The Road of Souls is his book about the trip, as well as a historical account of the river.
Noel DeCavalcante, the Singing Horseman, canoed the Mississippi in 1990. Read about his adventure
Down the Great River Joe and Isaac Angert from St. Louis paddle and pontoon the river. Lots to read, lots of pictures.
Also on this site - excerpts from river hitchiker Chris Markham's book Mississippi Odyssey.
Last, but definitely not least, these folks swam the length of the Mississippi!
Billy Curmano, "Swimmin' the Mississippi"
Martin Strel (2002) Video clip
If you know of any other ongoing or upcoming river trips, let us know and we'll link them here! editors@bigrivermagazine.com