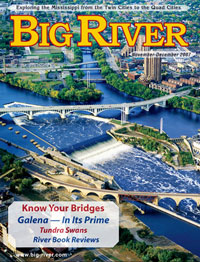 A Guide to Upper Mississippi Bridges

Bridge Closings and Repairs
DeSoto Bridge,
St. Cloud, Minn.
Closed on March 20, 2008, due to distorted gusset plates; demolished in October 2008 and the new bridge is on schedule to open in November 2009.
Lowry Ave. Bridge, Minneapolis
Closed on April 25, 2008
Hastings High Bridge
Hastings, Minn.
Maintenance and repair one-lane only summer 2008.
replacement moved ahead to 2010.
Winona High Bridge
Winona, Minn.
Closed June 3, 2008 due to corroded gusset plates.
Reopened to cars June 14
Scheduled to be replaced in 2014.

From Big River Magazine, November-December 2007
Bridges become an important part of your life when you live near the Mississippi River, but the collapse of the I-35W Bridge in Minneapolis on August 1, 2007, brought the subject into sharp focus. People studied bridge ratings like baseball scores and for a few days, at least, breathed a little more shallowly as they drove across bridges.
Thirteen people died in that tragedy, and many of us thought, "That could have been me. How safe are other Mississippi River bridges?"
Here is a table with information about the 43 traffic bridges between Coon Rapids, Minn., and Muscatine, Iowa — excluding railroad and pedestrian bridges. The first thing one notices is that 23 of those bridges cross the 35 miles of urban river in the Twin Cities. The other 20 cross 358 miles of river from Hastings, Minn., to Muscatine. About three times as many people cross those urban bridges on an average day than cross the other 20 bridges.
While the Twin Cities' bridges are, on average, only 1.5 miles apart, below Hastings they tend to cross the river about every 30 miles. The bigger river cities — La Crosse, Wis.; Dubuque, Iowa; and Clinton, Iowa — have two each. Appropriately, the Quad Cities area has four bridges, one of which, the Government Bridge, has the distinction of being the oldest and lowest rated open bridge in our survey. It's a beautiful old double-decker swing bridge that carries both railroad and vehicular traffic from Davenport to the downstream end of Arsenal Island, near the site where the first bridge was built across the river in 1856.
The longest stretch of river between bridges is from Prairie du Chien, Wis., to Dubuque — 53.4 miles. A ferry at Cassville, Wis., about midway, relieves some of the inconvenience during the warm months, but most of the year a drive from Cassville to Guttenberg, Iowa, will take well over an hour by car, while a crow with a GPS would only need to fly 6.5 miles.
It could be worse, and it was in the 1970s, when the Marquette-Joliet Bridge was being built between Prairie du Chien and Marquette, Iowa. Shortly after the bridge was opened, inspectors discovered that some of the steel wasn't up the specifications, and the bridge was closed while parts were replaced. A ferry helped when the weather and river allowed, but about 80 miles of river was bridgeless for some time.
We usually take bridges for granted, but they are very expensive and very important to communities and individuals that depend on them, which frequently leads to disputes. Contractors, agencies and politicians in the Twin Cities are currently battling over plans for the new I-35W Bridge and the partially completed I-494 Bridge. Because of the low volume of traffic using them, the communities near Lansing, Iowa, and Savanna, Ill., have sometimes had to battle for funds to keep their bridges open.
This table lists the cities linked by a bridge, but it's often not that simple. Many bridges cross the Main Channel from a city to an island, sometimes an island in the same state, as in Winona, Minn., and La Crosse, Wis. Then the highway continues on causeways and across smaller bridges to the other side. In these cases we ignored the islands and listed the cities on each side of the river. Where the bridge ends near two or more cities, we usually listed the larger city.
The "sufficiency rating" in the National Bridge Inventory uses four factors to generate a value between 0 and 100, with 100 being a perfect score. The rating considers lane width and other measures in addition to a bridge's structural condition.
The term "functionally obsolete" refers to the bridge design, judging that in some way it is not functioning as well as a bridge at that site might. Perhaps it has too few lanes, which causes traffic jams. The term does not refer to its structural safety.
The term "structurally deficient" refers to a structural defect or defects that may affect bridge safety.
We collected most of the information for the table from Nationalbridges.com, a website that provides searches of the National Bridge Inventory, and from the Army Corps of Engineers Navigation Charts.

See chart
This article was originally published in November 2007, and since then, two of the bridges have been closed, and one is under emergency repair. Another bridge, not on this chart because it is north of the Twin Cities, the De Soto Bridge in St. Cloud, Minn., was closed on March 20, 2008 due to distortions in gusset plates.
Bridges Updates from Big River Magazine, May-June 2008 March-April 2008