Chad Pregracke is living proof that one person can make a difference.
While attending high school and college, he worked as a commercial shell diver, a commercial fisherman and barge deckhand during the summers. The large amount of trash along the riverbanks alarmed him, so he decided to do something about it. During the summer of 1997 he got a small grant from the Alcoa Aluminum Corp. in Davenport, Iowa, to clean up the shoreline around the Quad Cities. He knew much more needed to be done, so he created Living Lands & Waters in 1998.
In addition to community river cleanups, LLW also has a Riverbottom Forest Restoration program and an Adopt-A-Mississippi River Mile program. Hundreds of teachers attend Big River Educational Workshops and its floating classroom.
The Adopt-A-Mississippi River Mile program is probably the easiest way to participate in the group's activities. Like the popular highway initiative, you simply select a river mile (see the Army Corps of Engineers Navigation Charts for accurate maps with river miles) in your area, secure
any permission needed from private land-owners, and begin cleaning all of the islands and shoreline in it. Living Lands and Water will provide a sign with your organization's or family's name on it to put up on your river mile. Contact LLW for more information.
Living Lands & Waters usually works along the Mississippi River from Minneapolis-St. Paul to St. Charles, Missouri, and along the Ohio River near Paducah, Kentucky. However, in April of 2004, they coordinated a massive cleanup effort in the Washington, DC, area.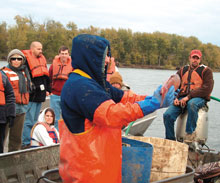 Members, Volunteers & Staff
Living Lands and Waters welcomes donations of any amount from individuals and corporations. They are currently developing a membership structure to allow individual involvement in the organization. If you are interested in becoming a member, check the web site or call the office for information.
LLW has ten paid staff members and plenty of work, so volunteers are always welcome for a variety of tasks. Most volunteers participate in river cleanups. Over the years, thousands of people of all ages have worked on LLW cleanups.
In 2002 Chad received the Jefferson Award, the highest recognition of public service in the U.S.
The Coca-Cola Company sponsored his attendance at the World Summit on Sustainable Environments in South Africa.
He's also received the Manhattan Institute for Policy Research Award, Focus St. Louis What's Right With the Region, an honorary Doctor of Public Service from St. Ambrose University and many more awards.
Major contributions come from both corporations and individuals. Cargill, Anheuser-Busch, Caterpillar Foundation, Lafarge North America, MEMCO Barge Line, the Davenport Riverboat Development Authority and the Scott County, Iowa, Regional Authority are all major supporters of LLW.
Living Lands & Waters plans to continue to refine its operations and serve communities that need assistance.
F
Photos:
Top: ChadŐs crew travels on the River Clean Up. (National Mississippi River Museum and Aquarium)
Above left: A LLW volunteer conducts a workshop in Burlington, Iowa. (L.A. Lopez)