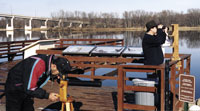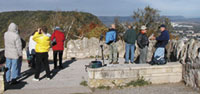 Top right: Quad Cities birding outing
Above: Eagle spotters on the Eaglewatch deck in Wabasha, Minn.
Birders at Garvin Heights lookout, Winona, Minn. (Hiawatha Valley Audubon)
Originally published in Big River Magazine September 2004
Audubon, the premier organization for bird conservation and education, has a special program dedicated to the river, the Upper Mississippi River Campaign, but the foundation of the organization is the local chapters.
Most clubs schedule monthly meetings with a speaker or presentation and regular outings, as well as other events, such as the annual Christmas Bird Count. If you are interested in birds, making new friends and getting outdoors, consider joining a local bird club.
Minneapolis Audubon
President: Jerry Bahls
2,600 members
Signature Event: Summer Natural History programs at Mayflower Church, Minneapolis.
St. Paul Audubon
(651) 291-2596
President: Craig Andresen
2,400 members
Signature Event: Mother's Day Warbler Weekend at Frontenac, Minn.
Hiawatha Valley Audubon
Winona, Minn.
(507) 454-1747
President: Stewart Shaw
130 members
Signature Event: June cookout and outing near Pickwick, Minn.
Coulee Region Audubon
La Crosse, Wis.
(608) 784-2992
President: Bobbie Wilson
320 members
Signature Event: Lansing Loop (La Crosse, Wis., to Lansing, Iowa) outing along the Mississippi.
Dubuque Audubon
President: Joe Tollari
250 members
Signature Event: January Eagle Day at Lock and Dam 11.
Quad Cities Audubon
(563) 332-2042
President: Mary Lou Petersen
597 members
Signature Event: January Bald Eagle Days at Sunset Marina, Rock Island, Ill.
There are more Audubon clubs in the region. To find the one nearest you, visit the Audubon website or phone (212) 979-3000.